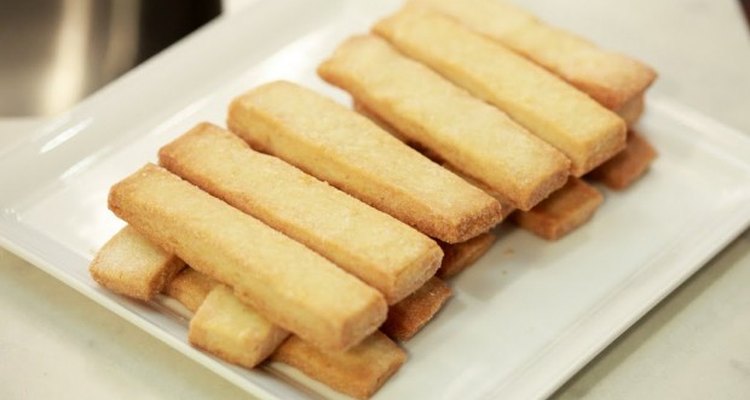 Makes about 1 1/2-dozen (2-inch) cookies1 pound (4 sticks) unsalted butter, at room temperature 1 cup powdered sugar 1/2 teaspoon vanilla extract 1 vanilla bean, split and seeded 4 cups all-purpose flour, plus additional for rolling out the dough 1/2 teaspoon baking powder 3/4 teaspoon fine grain sea salt 1/4 cup crème fraiche 1 cup sugar, for dredging
In the bowl of a stand mixer fitted with a paddle attachement, combine the butter and powdered sugar on medium-low speed and mix until light and fluffy, about 5 minutes. Add the vanilla and vanilla beans to the mixer and mix to incorporate. Stop the mixer and scrape the bottom and sides of the bowl.
Turn the mixer to its lowest speed and slowly add the flour, baking powder, and salt. Mix until the dough is homogenous and then incorporate the crème fraiche. Transfer the dough to a large sheet of plastic wrap and flatten it into a disc about 1-inch thick. Tightly wrap the dough with the plastic wrap and refrigerate it until firm, at least 3 hours and up to overnight.
When you're ready to bake the cookies, preheat an oven to 325ºF. Prepare two baking sheets by lining them with parchment paper.
Generously flour a work surface and roll the dough out to a thickness of 1/2-inch. Using a large knife, cut the round edges off from the dough to make it into a rectangle and cut the rectangle in half lengthwise. Cut the dough into sticks that are the with of two of your fingers. Roll the sticks in the sugar and transfer them to the prepared baking sheets, leaving about 2-inches between each cookie. Bake the cookies until pale golden brown around the edges, 5 to 8 minutes (the dough scraps can be gathered together and rolled out one more time).
Cool the cookies completely before serving.
http://www.ehow.com/video_12157982_rich-buttery-shortbread-cookies.html
In association with Rachael Ray at www.rachaelray.com