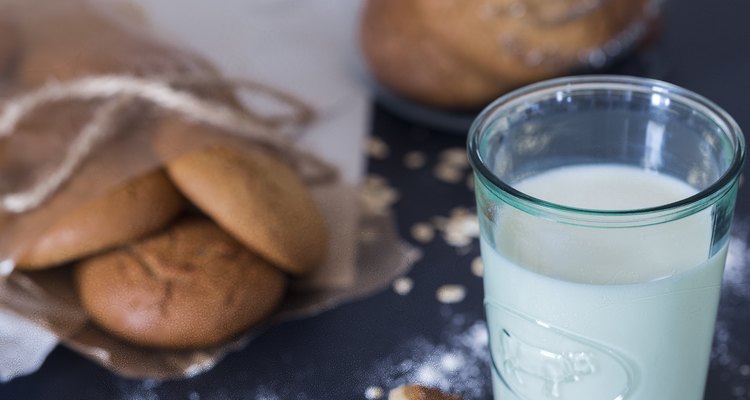 OxanaNigmatulina/iStock/Getty Images
Start to Finish: 30 minutes
Servings: 3 dozen cookies
Difficulty Level: Beginner to intermediate
The sweet smell of oatmeal cookies baking in your oven draws everyone into your kitchen. Try a recipe inspired by Schrafft's of Boston, whose cookies were all the rage from the 1920s through the '70s. No one needs to know how quick and easy it is to make these soft and chewy oatmeal cookies from scratch.
Ingredients
1 1/2 cups rolled oats. Quick-cook oats are OK, but not instant.
1 1/4 cup flour
1/2 teaspoon salt
1/2 teaspoon baking soda
1/2 teaspoon baking powder
1 1/2 teaspoons cinnamon
1/2 teaspoon allspice
1 stick softened unsalted sweet butter
1/4 cup packed brown sugar
3/4 cup sugar (baker's sugar if you have it)
2 eggs, brought to room temperature
1 teaspoon real vanilla extract
1 cup half and half or whole milk
1 cup golden raisins
1 cup chopped walnuts
Mix It Up
Preheat the oven to 350 Fahrenheit.
In a large bowl and with a wooden spoon or large whisk, mix oats, flour, salt, baking soda, baking powder, cinnamon and allspice.
With a portable electric mixer or stand mixer, beat the softened butter with the brown sugar and the white sugar until smooth and creamy. It's possible to cream the butter and sugar by hand, but you'll need some extra time and elbow grease.
Add the eggs and vanilla and continue beating until they are well combined.
Turn the mixer on low speed and gradually add the mixture of dry ingredients and the milk. Mix the combination until you have a sturdy, sticky dough.
By hand, stir in the raisins and nuts, distributing them throughout the dough.
Bake Off
Drop the dough by heaping tablespoons onto two baking sheets lined with parchment paper, 18 mounds on each sheet. Pat the tops of the cookies with a spoon or your fingers to slightly flatten them. For a rich bottom crust, bake the cookies on buttered baking sheets instead of parchment paper.
Bake for 12 to 15 minutes or until the edges of the cookies are browned.
Substitutions, Additions and Tips
Chocolate chips are an easy add to your cookie dough.

Substitute dried cranberries or cherries for the raisins.

Add 1/4 teaspoon almond flavoring and replace the walnuts with chopped almonds.

Consider adding 1/2 cup of crispy drained bacon bits. Yes, cookies for breakfast.

Instead of liquid vanilla, scrape the insides of two vanilla beans into the milk and add to the batter.

Refrigerating the dough for a few hours or overnight will make it easier to handle.
References
Writer Bio
Raechel Donahue is an author, journalist and former features editor of the Brentwood News. Her specialties include travel, food and film. She performs a weekend show on BossBossRadio.com, runs a travel website and has written, produced and directed several PBS documentaries. A native Californian, Donahue currently lives in France.
Photo Credits
OxanaNigmatulina/iStock/Getty Images