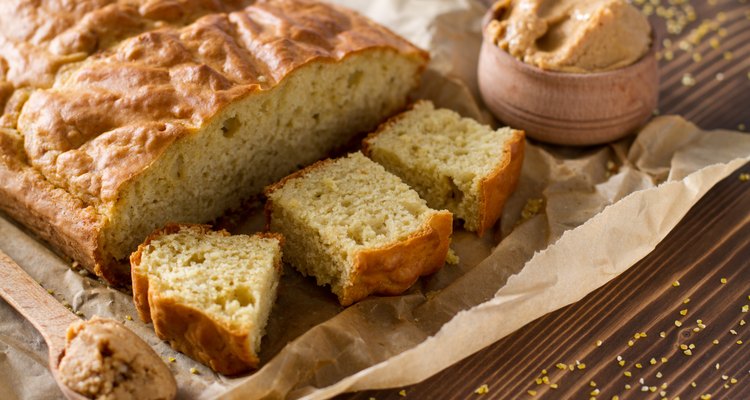 a_namenko/iStock/Getty Images
Produced by the Chelsea Milling Company in Chelsea, Michigan, the JIFFY product line of boxed mixes includes cake mixes, crust mixes, frosting mixes, multi-purpose mixes and various muffin mixes. You can use the JIFFY corn muffin mix to make quick and easy cornbread -- all you need to add is an egg and milk.
Calories
The corn muffin mix has 150 calories in a 1/4-cup, or 1.3-ounce, serving with 40 calories from fat. When baked with added milk and egg, the same 1.3-ounce serving contains 170 calories, including 50 calories from fat.
Nutrition
The same 1.3-ounce serving of the baked cornbread contains 5 grams of fat including 2 grams of saturated fat, 340 milligrams of sodium, 2 grams of protein and 27 grams of carbohydrate with 7 grams of sugars and 1 gram of fiber.
Ingredients
JIFFY makes its cornbread mix from wheat flour, yellow corn meal, sugar, animal shortening, baking soda, sodium acid pyrophosphate, salt, monocalcium phosphate, niacin, reduced iron, thiamine mononitrate, riboflavin and folic acid. Each package provides six servings.
References
Writer Bio
William Lynch has been a freelance writer for the past fifteen years, working for various web sites and publications. He is currently enrolled in a Master of Arts program in writing popular fiction at Seton Hill University. He hopes to one day become a mystery novelist.
Photo Credits
a_namenko/iStock/Getty Images