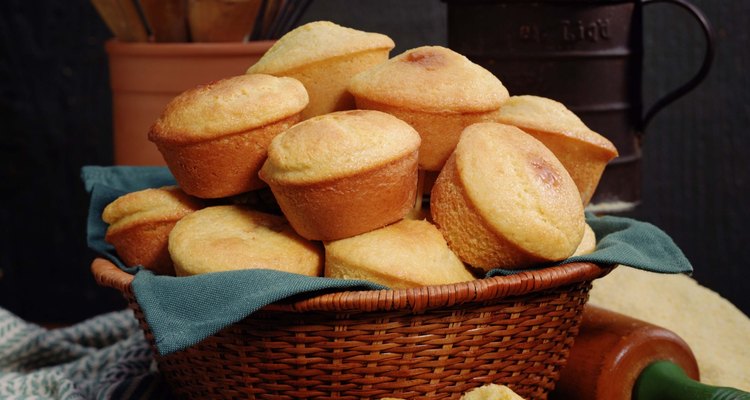 Jupiterimages/Stockbyte/Getty Images
Leftover cornbread is a different twist on an old favorite -- traditional bread pudding made with a custard-like base of milk and eggs. When the custard soaks into the dry cornbread, the resulting bread pudding is rich, chewy and moist. Although bread pudding is often served as a dessert with raisins, sugar and cinnamon, cornbread pudding with onions, mushrooms or seasonings such as parsley, sage or thyme is hearty enough to serve as a side dish.
Step 1
Cut the cornbread into 1/2-inch cubes. Coat a baking dish with nonstick cooking spray or cooking oil, then layer the cornbread cubes in the baking dish.
Step 2
Mix eggs with half-and-half in a small bowl. Use one egg and 1/2 cup of half-and-half for every cup of cubed cornbread. Use heavy cream or whipping cream for a richer pudding, or milk for a lower-fat pudding.
Step 3
Stir in raisins, walnuts or other complementary ingredients. To make a savory dish, saute sliced mushrooms or chopped onions in olive oil or butter, then add them to the egg mixture along with seasonings to taste.
Step 4
Pour the egg mixture over the cornbread.
Step 5
Cover the baking dish and place it in an oven preheated to 350 degrees Fahrenheit. Bake the pudding for 25 minutes, then remove the cover and continue to bake for an additional 15 minutes.
References
Tips
For a savory bread pudding, try sprinkling grated mozzarella or Monterey jack cheese over the dish when it comes out of the oven.
Writer Bio
M.H. Dyer began her writing career as a staff writer at a community newspaper and is now a full-time commercial writer. She writes about a variety of topics, with a focus on sustainable, pesticide- and herbicide-free gardening. She is an Oregon State University Master Gardener and Master Naturalist and holds a Master of Fine Arts in creative nonfiction writing.
Photo Credits
Jupiterimages/Stockbyte/Getty Images