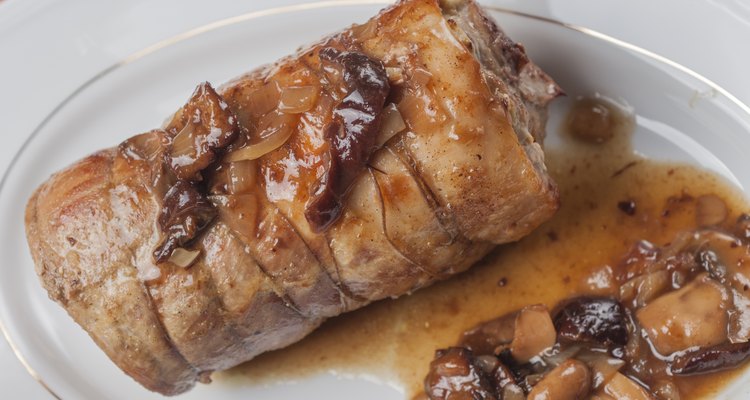 carpaumar/iStock/Getty Images
While the bulk of bacon bought in the United States is strip, or streaky bacon, from the belly of the pig, a less-fatty bacon is peameal, or Canadian bacon. Peameal bacon is cut from the pork loin and the fat is trimmed to about one-eighth of an inch. The loin is then sweet-pickle cured and rolled in yellow cornmeal, giving Canadian bacon its other name, peameal bacon.
Preheat your oven to 325 degrees Fahrenheit.
Score the fat on top of the peameal bacon loin, similar to a ham.
Place the peameal bacon loin on the rack of the roasting pan and add the liquid. Place the roast in the oven.
Baste the loin several times during baking. Periodically replenish the liquid with boiling water.
Bake for about two hours or until the meat thermometer reads 166 degrees Fahrenheit when inserted into the center of the peameal bacon loin. Remove from the oven and let the loin rest five minutes before slicing and serving.
Tips
To add extra flavor to your peameal bacon loin, stick seven or eight cloves into the fat of the roast.
For a glaze, spread a mixture of 3 tbsp. of pineapple jam, 2 tbsp. of bread crumbs and 1 tsp. of mustard over the peameal bacon loin before you put in the cloves.
Warnings
Do not allow the pan to completely dry out. The liquid will help keep your peameal bacon loin moist and juicy.
Writer Bio
Carrie Cross has been writing for profit and pleasure for more than 35 years. Her background includes business, real estate, entrepreneurship, management, health and nutrition. A registered nurse, she has published various pieces, including web content, numerous newspaper and magazine articles and columns and six books.
Photo Credits
carpaumar/iStock/Getty Images