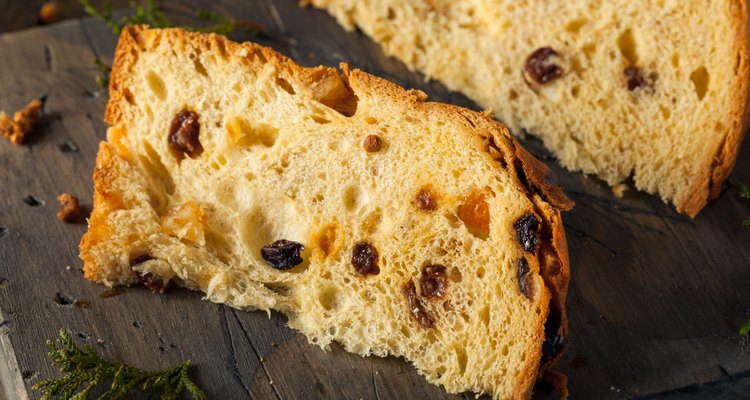 bhofack2/iStock/Getty Images
Panettone is a traditional Italian holiday bread, originally from Milan, although it is served all over Italy and Switzerland. It is a rich yeast bread with dried fruits, candied citrus, and lemon or orange zest.
Calories
A small loaf of panettone made with 1 oz. of yeast, 2 1/2 cups of flour, a half-cup of sugar, one egg, five egg yolks, a half-cup of butter, 6 tbsp. of raisins and 2 oz. of candied orange peel, plus salt, contains nearly 3,000 calories, according to the U.S. Department of Agriculture Nutrient Database. Divided into 12 slices, each slice has 248 calories.
Low-fat Panettone
To make a tender panettone with fewer calories, use two eggs and a half-cup of nonfat yogurt instead of one egg and five egg yolks. Omit the butter entirely. In this recipe, each serving would have 160 calories.
Tips
Serve slices of toasted panettone with jam or mascarpone cheese for breakfast or any meal or snack. It pairs well with coffee or tea, or a glass of Prosecco. Panettone keeps well, and when it begins to dry out, it can be made into french toast.
References
"Sweet Maria's Italian Desserts: Classic and Casual Recipes for Cookies, Cakes, Pastry, and Other Favorites"; Maria Bruscino Sanchez; 2000
Writer Bio
Ramona French owned a massage school and taught massage for 28 years. In that time she wrote textbooks on Swedish, acupressure, deep tissue and lymph drainage massage. She is the author of "Introduction to Lymph Drainage Massage" and "Milady's Guide to Lymph Drainage Massage." Her book, "The Complete Guide to Lymph Drainage Massage," published by Milady, was released in October 2011.
Photo Credits
bhofack2/iStock/Getty Images