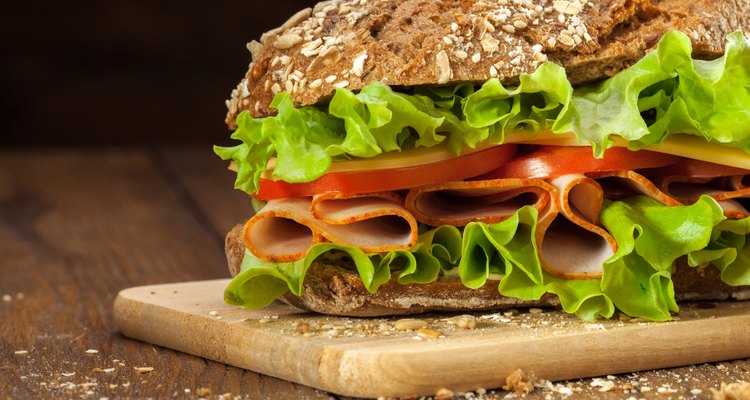 artJazz/iStock/Getty Images
The ham and cheese sub is a popular classic. Subway's 6-inch ham and cheese sub has a relatively moderate calorie count and is a decent portion size, making it a good fast food choice.
Ingredients
The 6-inch ham and cheese on whole wheat is made with Black Forest ham and 9-grain wheat bread. Subway offers cheddar, monterey jack, Swiss, American, provolone and pepper jack cheeses.
Sandwich Calories
According to Subway's website, a plain 6-inch ham sub on wheat bread without cheese contains 290 calories, including 40 calories from fat. Two triangles of cheese will add between 40 and 60 calories and 35 to 45 fat calories.
Toppings
One tbsp. of regular mayonnaise will add 110 calories to your sandwich, all of which are fat calories. One tbsp. of light mayonnaise will add 50 calories and 45 fat calories. Subway's olive oil blend contains 45 calories, but is high in heart-healthy fats. Mustard contains only five calories and vinegar contains none.
Additional Nutrients
The Subway ham and cheese sandwich is high in protein and carbohydrates. Vegetables, including spinach, lettuce, tomatoes, peppers, cucumbers, olives and onions, will add vitamin A, vitamin C, B vitamins, fiber, potassium and calcium.
References
Writer Bio
Jessica Martinez is a freelance writer from Clayton, North Carolina. As a homeschooling mom, she enjoys writing about education, child development and family issues. Martinez also enjoys researching and writing about subjects she loves: history, art, interior design, gardening and travel.
Photo Credits
artJazz/iStock/Getty Images