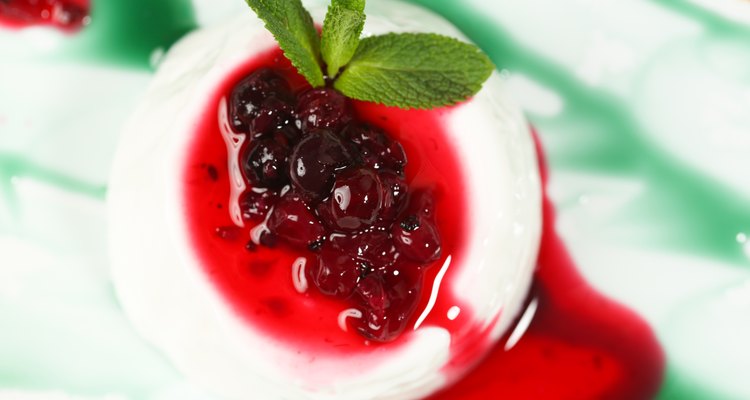 Hreni/iStock/Getty Images
Cheesecake is a rich and creamy dessert, perfect for any season of the year. Flavor cheesecakes with fruit, chocolate or spices, depending upon your menu. Whole cheesecakes can crack as they bake or fall apart when sliced, but baking miniature cheesecakes in individual dishes or ramekins reduces these potential problems. Mini cheesecakes baked in ramekins create a pretty presentation for your dinner party or a larger buffet.
Preheat the oven to 350 degrees Fahrenheit.
Butter the inside of each ramekin. Dust with granulated sugar, tapping the ramekin to remove the excess.
Spoon approximately 1 tablespoon of your favorite topping into each ramekin. Try lemon curd, fruit compote, chocolate or caramel. Spread the topping over the bottom of each ramekin.
Add 1 scant cup of cheesecake batter to each ramekin. You can use a plain baked cheesecake recipe or opt for a flavored cheesecake.
Place the ramekins into a large baking pan. Add water to the large pan until it reaches halfway up the sides of the ramekins.
Bake at 350 degrees Fahrenheit for 35 to 40 minutes. Remove from the oven and allow to cool. Refrigerate at least 3 hours to chill completely before serving.
Loosen the cheesecakes from the ramekins by running a knife along the sides. Invert onto dessert plates and serve, adding additional sauce, fresh fruit or other toppings if desired.
References
Tips
If you don't have ramekins, you can bake mini cheesecakes in cupcake pans.
For a casual presentation, serve cheesecakes in the ramekins. Add a crust on the bottom and top the cheesecake batter with fruit compote or another topping before you bake.
Writer Bio
With a master's degree in art history from the University of Missouri-Columbia, Michelle Powell-Smith has been writing professionally for more than a decade. An avid knitter and mother of four, she has written extensively on a wide variety of subjects, including education, test preparation, parenting, crafts and fashion.
Photo Credits
Hreni/iStock/Getty Images