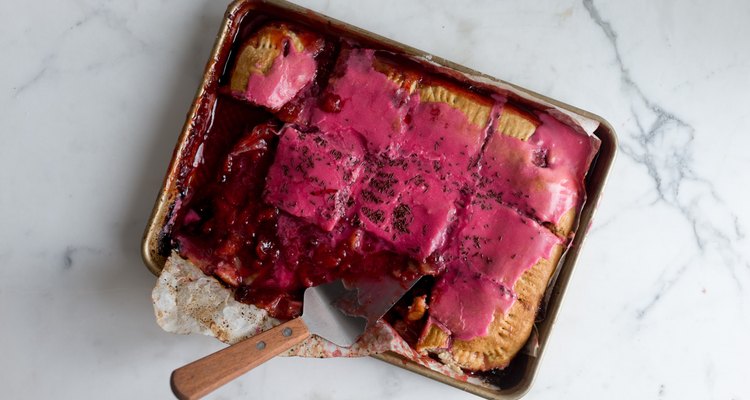 This giant Pop-Tart Pie is a fun and delicious take on the classic store-bought favorite. The flaky all-butter crust is filled with a sweet pocket of jammy strawberries, decorated in a vibrant pink glaze and topped with a generous handful of rainbow sprinkles. You can easily customize the fruity filling for your personal taste preferences too. Trust us, this dessert is irresistible! (Dare we say, this would make for a tasty breakfast treat.)
Make the Pie Dough
Place the all-purpose flour, granulated sugar, salt and cubed butter into the bowl of a food processor. Pour in the cold water and apple cider vinegar. Pulse until the mixture begins to form a soft dough ball around the base of the blade, about 30 seconds to 1 minute.
Divide the dough into two halves and cover each in a thin layer of plastic wrap. Chill the dough in the refrigerator for at least 1 hour or overnight.
Make the Filling
In a medium sized bowl, combine the strawberries, granulated sugar, cornstarch and lemon juice. Stir until the sugar has evenly coated the fruit and is evenly distributed. Set the bowl aside.
Roll and Fit the Dough
Pre-heat the oven to 400 Fahrenheit (200 Celsius). Line a 12 x 9 inch (32 x 42 centimetre) rectangular baking tin with parchment paper. Set aside.
Remove the dough halves from the refrigerator. Place the first half out and onto a floured surface. Using a lightly floured rolling pin, begin to roll the first dough half into a rough rectangular shape, about the size of your baking tin. Carefully lift the dough and fit it into the baking tin, letting any excess slightly over hang the sides. Repeat the rolling process with the remaining dough half, though, set this piece aside for the top layer of the pie.
Assemble
Spread the strawberry jam over the base of the dough. Scatter the fresh strawberry mixture over the top, as set aside above.
Place the remaining rolled dough over the top of the pie to cover. Fold any excess dough underneath then use a fork to crimp the edges together. Use a sharp knife to cut a small 'X' shaped vent in the top of the dough, then use a pastry brush to glaze the top with the heavy cream.
Bake
Bake the pie for 35 to 40 minutes, or until it is golden brown and the juices are beginning to bubble. Remove it from the oven and let it cool until it is just slightly warmer than room temperature. Once at temperature, remove the pie from its baking tin and set it out and onto a serving plate or tray before icing and serving.
Add the Icing
In a small bowl combine the powdered sugar, heavy cream, vanilla bean extract, rose water, salt and pink food coloring. Stir until the mixture is smooth.
Pour the icing over the top of the pie and then immediately decorate it with sprinkles or other decorations of choice.
Serve!
Slice and serve your Pop-Tart pie. It's best eaten on the day of making but can be stored in an airtight container at room temperature for up to 3 days.
Writer Bio
Thalia Ho is the self-taught baker, law student and author behind French-inspired food blog, butter and brioche, which chronicles her culinary explorations, sweet adventures and travels.