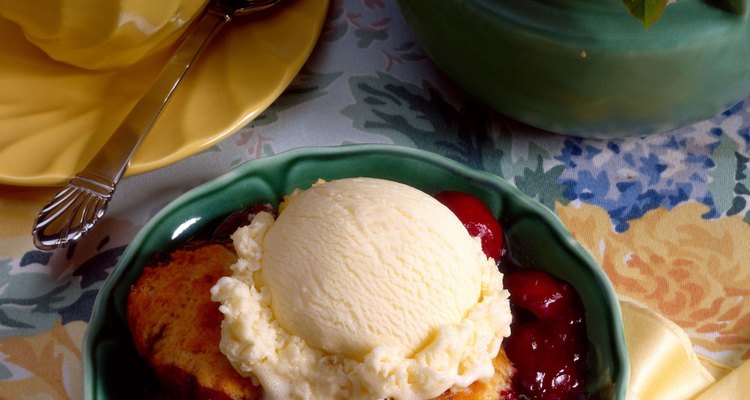 Jupiterimages/Comstock/Getty Images
When you don't have time to make a peach cobbler the way your Southern grandmother used to, or follow your mother's prizewinning berry cobbler recipe, turn to your trusty microwave for a super-quick and tasty cobbler, ready in mere minutes. Using just about any type fruit you would you put in a pie, you can prepare a fruit cobbler that no one will suspect came from the microwave.
Step 1
Choose your fruit, such as blueberries, blackberries and strawberries, or peaches, pears, apples and mangos. You can also make a blended fruit cobbler with two or more types of fruit. Use fresh or frozen and thawed, pre-chopped fruit.
Step 2
Place the berries in a microwave-safe baking dish or ramekin. Sprinkle lightly with sugar to taste. You can also add other flavoring such as cinnamon, nutmeg or a dash of vanilla.
Step 3
Stir in a little cornstarch and water slurry. This will help to thicken your fruit filling, but is not required.
Step 4
Combine equal parts flour and baking powder and dash of sugar together in a separate bowl. For every one-eighth cup of flour you use, add a tablespoon each of cold butter and milk to create a dough for the cobbler topping.
Step 5
Spoon the dough topping on top of the fruit and cook in the microwave in one-minute intervals, until the dough is cooked and the fruit is bubbling along the edges.
Step 6
Leave the cobbler to cool slightly in the microwave before handling. Enjoy as is, or top with whipped cream or ice cream.
References
Writer Bio
Based in Los Angeles, Zora Hughes has been writing travel, parenting, cooking and relationship articles since 2010. Her work includes writing city profiles for Groupon. She also writes screenplays and won the S. Randolph Playwriting Award in 2004. She holds a Bachelor of Arts in television writing/producing and a Master of Arts Management in entertainment media management, both from Columbia College.
Photo Credits
Jupiterimages/Comstock/Getty Images