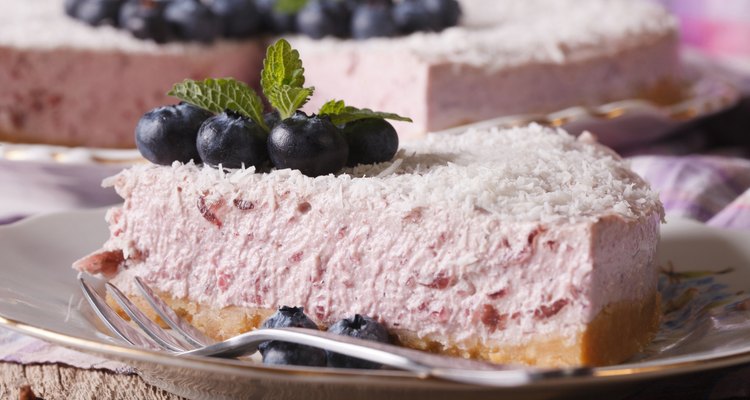 ALLEKO/iStock/Getty Images
No-bake cream cheese pies are easy summertime desserts. You can quickly prepare a no-bake blueberry cream cheese pie with little effort. No-bake cream cheese pies often use condensed milk, cream cheese and lemon juice as main ingredients in the filling, and blueberries for the topping. The cheese pie's flavor is similar to cheesecake, but the filling's texture resembles a pudding.
Crust
Some recipes call for a standard pie crust, a graham cracker crust or shortbread crust. If you want, you can change the pie crust for variety. For no-bake pie recipes, you will need to pre-bake or prepare the crust before adding the filling. You can either make a homemade crust or buy a ready-made one for easier preparation.
The Filling
The filling usually consists of condensed milk and cream cheese. Whipped topping and cream are not usually used. Lemon juice is added, which helps congeal the pie's filling. Use an electric mixer to ensure that the cream cheese is smooth and not lumpy. Usually, you do not need extra sugar in the filling, since condensed milk is already sweetened. Some people opt for low-fat condensed milk to make the pie healthier. You then pour the thickened filling into a prepared pie crust, and place it in the fridge to fully set.
Berry Topping
The final step in making a no-bake blueberry cream cheese pie is topping it with blueberries. Depending on your tastes, you can make some minor modifications. You can top with a pie with fresh, frozen or canned blueberries. Some people use blueberry pie filling for extra sweetness. You can change the type of berries to raspberries, strawberries or blackberries. You can also use a combination of berries for a more colorful pie.
Razzle Dazzle Recipe
This simple no bake cheese pie recipe is from Razzle Dazzle Recipes. Ingredients include: 8 ounces cream cheese, 14 ounces of condensed milk, 1/3 cup of lemon juice, and 14 ounces blueberry pie filling. Mix the first three ingredients, chill for an hour, then add the pie topping and chill for one more. You can use a graham cracker crust for this version.
Eagle Brand Recipe
This recipe for Very Berry Cream Cheese Pie is from Eagle Brand. For this recipe, you use a deep-dish pastry pie crust. The filling uses 1 teaspoon of vanilla extract, 8 ounces of cream cheese, 14 ounces of condensed milk and 1/3 cup of lemon juice. You then top the cream cheese pie with 2 pints of fresh berries. For a final touch, melt 1 tablespoon apple or red raspberry jelly to glaze the berries.
References
Writer Bio
Jennifer Mangaly holds a Bachelor of Arts degree in professional writing and international studies. She graduated with honors from Baylor University in Waco, Texas. She has worked as a consultant writer and editor for over eight years for a variety of corporate and non-profit clients.
Photo Credits
ALLEKO/iStock/Getty Images