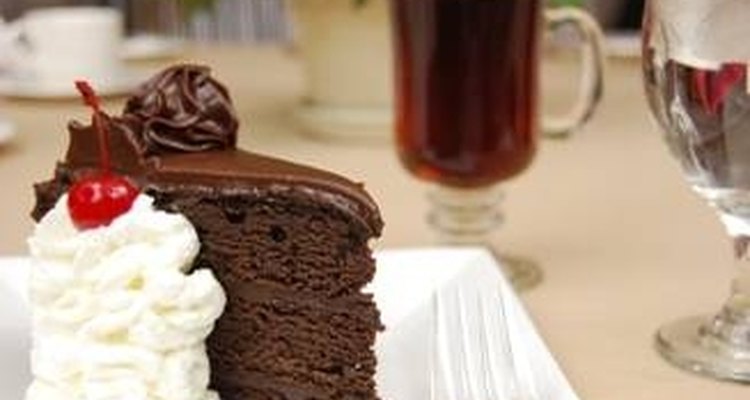 stock.xchng
The Coca-Cola Company considers this cake one of its heritage recipes. The company distributes a recipe that uses prepackaged devil's food cake mix. You can make this cake from scratch, however, to give it a more personal touch. The marshmallows give the cake pops of gooey sweetness. Adding both buttermilk and cola helps make this cake rich, sweet and fudgy, which is ideal for a sheet cake that you can serve in small portions.
Place an oven rack in the center position and preheat the oven to 350 degrees Fahrenheit.
Grease a 9-by-13-inch cake pan with either nonstick spray, or a layer of shortening and a dusting of flour.
Whisk your flour, baking soda and sugar together in a large heart-resistant bowl. Stir in your marshmallows.
Melt your butter in a small pot. Stir in your vegetable oil and Coca-Cola. Gently whisk in your cocoa powder and bring the mixture to just a boil.
While the mixture comes to a boil, whisk your eggs, buttermilk and vanilla extract together in a small bowl.
Stir the hot cola mixture carefully into the flour mixture until it's completely incorporated. Then stir in your buttermilk mixture, mixing well.
Pour the batter into your cake pan and bake for 30 minutes.
Make the frosting while the cake is baking. Put the butter, cocoa powder and Coca-Cola for the frosting into a small pot, and bring the mixture to a boil.
Stir the hot mixture carefully into the powdered sugar until it's completely combined. Stir in the vanilla extract, then mix in the nuts. Set the frosting aside until the cake is done.
Check to see whether the cake is done after 30 minutes. It will bounce back when gently pressed, and a tester should come out dry, though some cooked cake crumbs may stick to it. If the cake isn't completely baked through, bake it further and keep checking until it's done.
Pull the finished cake out of the oven and, while it's still hot, immediately pour the hot frosting over the top of it.
Allow the cake to cool completely before serving.
Tips
Do not use butter to grease your pan. Butter can make your cake stick to the pan, making it hard to remove. The wrong oven temperature can affect your cake's rise and how it bakes through. Preheat your oven to the correct temperature and give it enough time to preheat. The temperatures in older ovens especially can be too high or low by several degrees.
Photo Credits