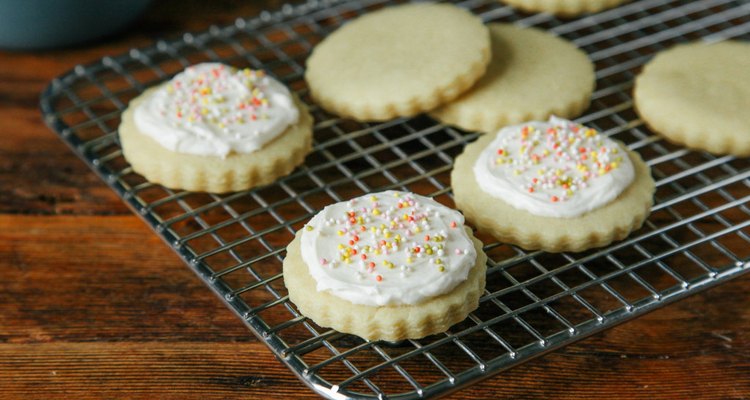 Good vegan sugar cookies are hard to come by. Most bakeries either overbake them, roll them too thin, or top them with with a hard, overly sugary glaze that doesn't do much except tear up the roof of your mouth. And probably give you half a dozen cavities.
A good sugar cookie is made with a sturdy dough that's sweet, but not overly so. It's topped with rich, creamy vanilla frosting and a few good shakes of multicolored sprinkles. A good sugar cookie has outsides are tough but insides that will melt and crumble in your mouth. And if you haven't guessed already, this recipe is one of the good ones. It's the most delicious sugar cookie to ever come out of my kitchen … and the best part? The dairy lovers in your life won't even be able to tell they're vegan.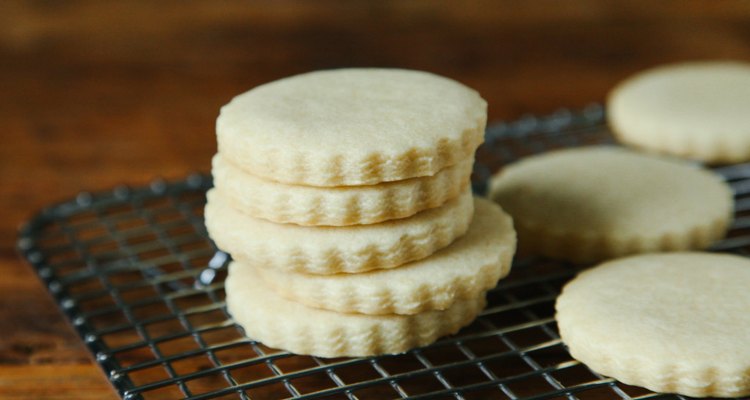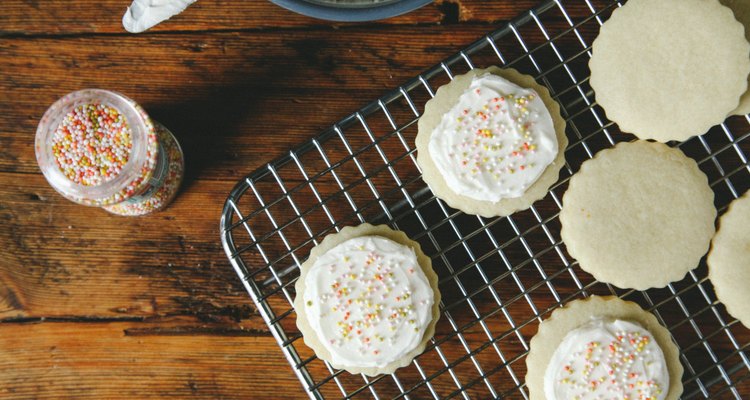 My preferred method of preparing cookies involves the use of a stand mixer, but if you don't have one, no worries. Simply cream the first four ingredients using a hand mixer or a whisk, then mix in the remaining ingredients using a wooden spoon or rubber spatula. If you have almond extract on hand, I highly recommend adding 1/4 teaspoon of it when adding the vanilla extract, as it makes for a deliciously flavored sugar cookie. The frosting recipe is a bit thick, so if you prefer something a bit thinner and less involved, top the cookies with a simple powdered sugar glaze.
Easy Vegan Sugar Cookies with Buttercream Frosting
1/2 cup vegan butter
1/2 cup cane sugar
2 tablespoons non-dairy milk
1 teaspoon pure vanilla extract
1/4 teaspoon fine sea salt
1/4 teaspoon baking soda
1 1/2 cups unbleached flour
1/2 cup vegan butter
1 1/2 cups powdered cane sugar
1/2 teaspoon pure vanilla extract
2 to 3 tablespoons non-dairy milk
In a large mixing bowl, cream together the butter, sugar, milk and vanilla extract using a hand mixer on high speed; mix for 1 to 2 minutes, or until light and fluffy.
Mix in the salt, baking soda and 1 1/4 cups of the flour; beat just until combined. Pinch the dough; if it's still sticky, mix in the remaining 1/4 cup of flour 1 tablespoon at a time until the dough is firm. Once dough has been mixed, wrap it in plastic and chill in fridge for at least an hour.
Preheat oven to 350 degrees Fahrenheit. Line a large baking sheet with a silicon mat or parchment paper; set aside.
On a flat surface lined with parchment paper and sprinkled with flour, roll out the dough until it's about 1/4 inch thick. Using a round cookie cutter, cut the dough then transfer to the prepared baking sheet, leaving at least an inch between each cookie.
Transfer the sheet to the freezer and chill for at least 30 minutes (this will help the cookies to retain their shape). Once they're chilled, bake the cookies at 350 F for 8 to 9 minutes. Allow them to cool on a baking sheet for 2 minutes, then transfer to a cooling rack.
While cookies are cooling, prepare the frosting in a large bowl by beating the butter, sugar and vanilla extract using a hand mixer on high speed, for 30 to 45 seconds. Once combined (it may get a bit crumbly), mix in 2 tablespoons of the milk until light and fluffy, about 30 seconds. If you desire a frosting that's a bit thinner, beat in the remaining tablespoon of milk.
Once the cookies have cooled, spread each with about 1 tablespoon of icing then top with sprinkles, if desired. Cookies will keep in an airtight container for up to five days.
Photo credit: Ashlae Warner