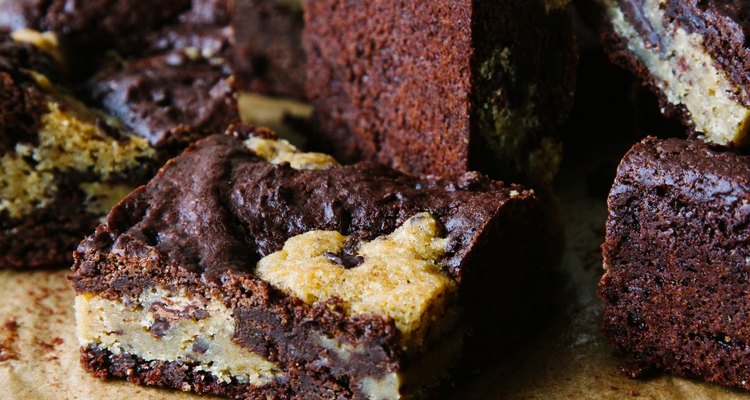 A few years ago, back before I started my blog and long before I was really serious about baking, this brownie recipe won an award from the makers of the vegan butter you probably keep in your refrigerator (that is, if you follow a vegan diet). Although delicious, the original version relied on a powdered egg substitute and an overly processed liquid sweetener — both of which I removed from my pantry a long time ago. Not to mention, the preparation method involved turning the flour and liquid into a paste, resulting in an extremely messy and frustrating brownie making experience. So to make this recipe more approachable, I skipped the flour paste step and replaced some of the ingredients with things I already had in my kitchen — and things you probably already have in yours, too.
These brownies are a bit on the dense side, but are incredibly rich and pair perfectly with the bursts of cookie dough. If you'd prefer to use your favorite cookie dough recipe in place of the one I've provided below, make sure you add a couple tablespoons of non-dairy milk during the creaming process to ensure a dough that'll blend well with the consistency of the brownies. If you're a fan of peanut butter, I highly recommend trying this recipe with peanut butter cookie dough and topping the finished product with a heavy drizzle of melted peanut butter.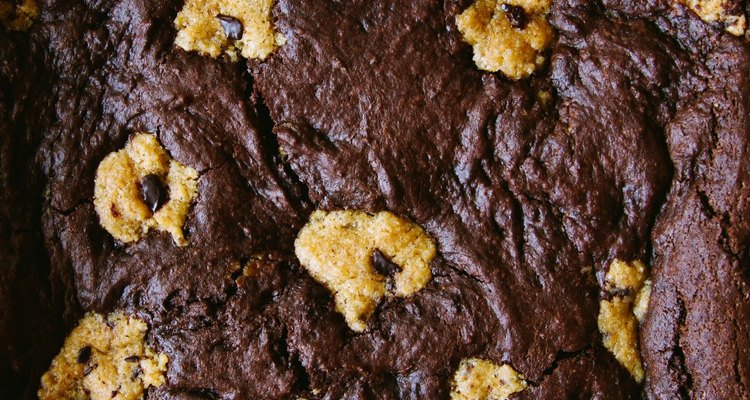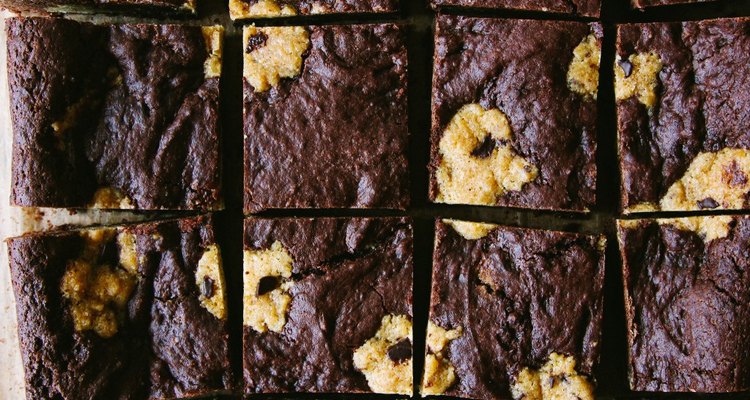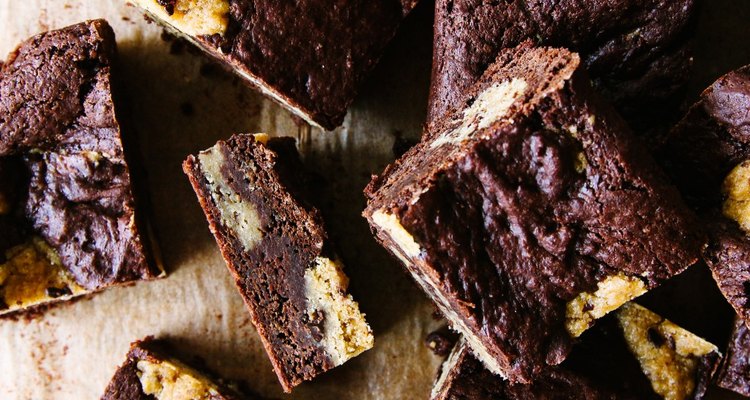 If you don't have cacao powder, feel free to replace it with natural cocoa powder (not Dutch processed). Unfortunately vegan butter does not substitute all that well in the brownie batter, as it makes the end result a bit on the oily side. If you're OK with semi-oily brownies, vegan butter or a neutral-flavored oil can be used in place of the shortening (although I do not recommend it). If the cookie dough seems like too much work, the brownie recipe is delicious on its own but also pairs great with a swirl of peanut butter or chocolate hazelnut spread. If you're not vegan, feel free to replace the flax egg and faux dairy ingredients with their animal-derived counterparts.
Chocolate Chip Cookie Dough Brownies
1/2 cup vegan butter
1/2 cup cane sugar
2 tablespoons non-dairy milk
1 teaspoon pure vanilla extract
1/4 teaspoon fine sea salt
1/4 teaspoon baking soda
1 cup unbleached flour
1/4 cup vegan mini chocolate chips
1 cup unbleached flour
2/3 cup cacao powder
3/4 teaspoon fine sea salt
1/2 teaspoon baking soda
1/2 cup non-hydrogenated shortening
1/2 cup vegan chocolate chips
1 cup cane sugar
2/3 cup non-dairy milk
1 flax egg
In a large mixing bowl, cream the butter, sugar and vanilla extract using a hand mixer on high speed for 30 to 45 seconds. Beat in the milk just until combined, then add the salt, baking soda and flour. Mix on low speed just until the flour is completely incorporated. Stir in the chocolate chips, then wrap the dough in plastic and refrigerate until ready to use.
Preheat oven to 350 degrees Fahrenheit. Line a 9-inch square baking pan with parchment paper; set aside. In a large mixing bowl, whisk together the flour, cacao powder, salt, and baking soda; set aside. In a double boiler over medium heat, melt the shortening and chocolate chips. Once melted, stir in the sugar and non-dairy milk, just until combined. Create a well in the center of the dry ingredients and add the flax egg and chocolate mixture; whisk just until combined. Pour the batter into the prepared baking pan and dot with cookie dough. After you've added about half the dough, level the batter with the back of a spoon. Finish dotting with the remaining dough then rap the pan on the counter to release any excess air bubbles. Bake at 350 F for 27 to 28 minutes, then allow the brownies to cool in the pan for at least an hour. Serve when cooled. Brownies will keep in an airtight container for up to three days.