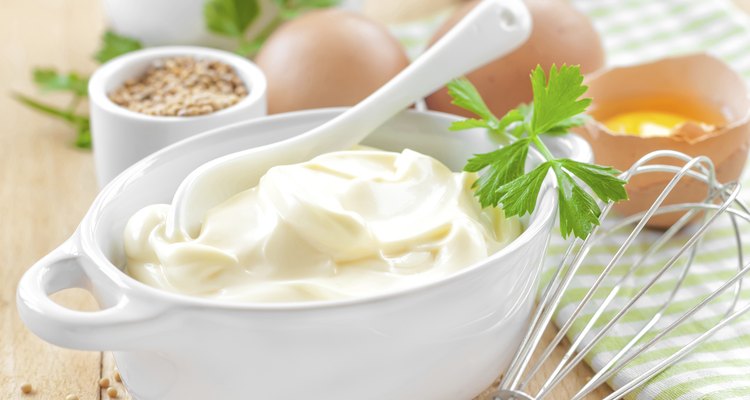 YelenaYemchuk/iStock/Getty Images
If you are out of eggs and need a substitute for a baking recipe, you can use mayonnaise. Egg adds structure and stability to the final product and mayonnaise doesn't do the job quite as well. But the oil in mayonnaise helps moisten the recipe and acts as an adequate substitute for the liquid an egg would have added. Use real mayonnaise for the best effect. This substitution works only for baking recipes, not recipes that use eggs for other purposes, such as thickening custards, adding gloss to pastries or scrambling as a main dish.
Measure 3 tablespoons of mayonnaise for each egg in your recipe.
Mix the mayonnaise in with the wet ingredients thoroughly before combining wet and dry ingredients. Complete the recipe as usual.
Check the final product once it's done. If the recipe is too wet or greasy, reduce the substitution amount to 2 or 2 1/2 tablespoons of mayonnaise per egg next time you use the recipe.
References
Writer Bio
Benjamin Twist has worked as a writer, editor and consultant since 2007. He writes fiction and nonfiction for online and print publications, as well as offering one-on-one writing consultations and tutoring. Twist holds a Master of Arts in Bible exposition from Columbia International University.
Photo Credits
YelenaYemchuk/iStock/Getty Images