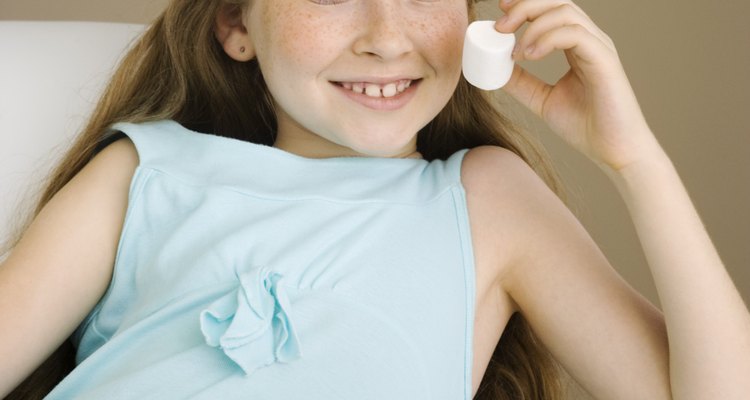 Jupiterimages/Pixland/Getty Images
The gooey sweet goodness of marshmallows isn't just for s'mores or hot cocoa -- you can also melt marshmallows and use them to make an indulgent icing to top cakes, cookies and cupcakes of any kind. There's more than one way to use melted marshmallows for icing, including a very basic one-ingredient method for topping small, individual desserts like cupcakes and cookies. You can also opt for the more traditional-style frostings, including a fluffy, spreadable marshmallow frosting and a stiffer marshmallow fondant for cakes with a smooth finish.
Quick Marshmallow Icing
Preheat the oven to about 350 degrees Fahrenheit.
Top freshly baked cupcakes or cookies with one marshmallow each and place in the oven for about 3 to 5 minutes, until the marshmallow are very soft. Remove the from the oven.
Press down on the center of each softened marshmallow with the back of a spoon to slightly flatten and spread to the edges of each dessert. The marshmallow may continue to melt slightly and ooze over the edge a bit. Let them cool completely before serving.
Creamy Marshmallow Icing
Combine marshmallows with powdered sugar, heavy cream and a dash of salt in a large saucepan. For roughly 10 ounces of marshmallows, use 1 cup of powdered sugar and 2 cups of heavy cream.
Heat the saucepan over medium-low heat on the stovetop, stirring constantly to avoid scorching, until the marshmallows melt completely.
Remove the saucepan from the heat. Add a teaspoon or so of vanilla for more flavor if you like, then pour into a mixing bowl and place in the refrigerator covered, to chill overnight.
Beat the chilled marshmallow icing using an electric stand mixer or a powerful hand mixer, scraping down the sides as you go, until smooth, about 1 minute. The icing will be stiff from chilling, but if your mixer is having a hard time with it, let it sit for about 5 to 10 minutes to slightly warm up before continuing to mix.
Allow the marshmallow icing to rest at room temperature for at least 30 minutes to thicken up and reach a spreadable consistency.
Marshmallow Fondant Icing
Place marshmallows and water in a large, microwave-safe bowl. Use 2 tablespoons of water for every 16 ounces of marshmallows.
Microwave the marshmallows and water in 30-second intervals, for about 2 to 3 minutes or until fully melted. Use a spoon coated with solid vegetable shortening to stir the mixture well in between intervals. The shortening will help you mix easier without the spoon getting stuck.
Use the greased spoon to stir in any flavorings, such as vanilla extract and a few drops food coloring to coloring into the fondant, if you would like.
Stir in powdered sugar, about a 1/2 to 1 cup at a time into the marshmallow icing, using the well greased spoon, until it starts to form a dough. You may need to continuously grease the spoon as you go.
Grease your hands and a clean work surface generously with the vegetable shortening, then place the marshmallow fondant on the surface and knead. Continue adding powdered sugar, a little at a time, until it forms a stiff ball. For every 16 ounces of marshmallows you melt, use 8 cups of powdered sugar in total, which should make about 2 pounds of fondant.
Cover the ball of fondant in vegetable shortening and wrap well in plastic wrap to store overnight at room temperature. You can then, roll it out and use it to cover a cake or store in an airtight container in the refrigerator until you're ready to use it.
References
Writer Bio
Based in Los Angeles, Zora Hughes has been writing travel, parenting, cooking and relationship articles since 2010. Her work includes writing city profiles for Groupon. She also writes screenplays and won the S. Randolph Playwriting Award in 2004. She holds a Bachelor of Arts in television writing/producing and a Master of Arts Management in entertainment media management, both from Columbia College.
Photo Credits
Jupiterimages/Pixland/Getty Images