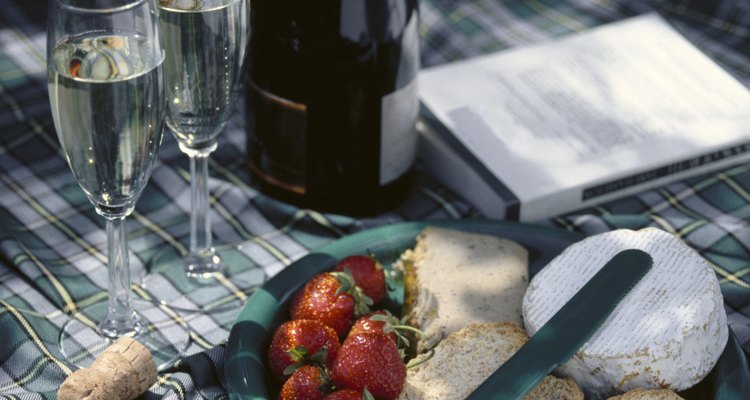 Hemera Technologies/Photos.com/Getty Images
Serving champagne makes a special occasion even more special. French Champagne, with a capital "C," comes from the Champagne region in France, while champagne with a lower case "c" refers to champagnes made elsewhere. All champagnes range from dry, or brut, to slightly sweet, ironically called extra dry, to sweet dessert types, called demi-sec. Although champagne tastes light and pairs well with light appetizers, it also complements rich, elegant appetizers.
Fruitful Choices
The lightness of fruit matches the light flavors in champagne. Choose from apples, blackberries, cherries, citrus fruits, cranberries, melon or raspberries and serve them fresh as finger-foods. Or, fill phyllo pastry shells with fruit, a dab of mascarpone cheese or sour cream and brown sugar. To balance champagne's acidity with contrasting salty flavor, wrap pears with a thin slice of ham or prosciutto or top apples with Swiss cheese.
Decadent Delights
The frozen food section of your grocery store offers a bonanza of elegant appetizers. Many of these contain rich cheese and butter that balance the acidity of dry champagne and deepen the flavor of sweet champagne. Look for gougeres, flaky pastry balls flavored with Gruyere cheese; palmiers, thin puff pastries that can be flavored with savory herbs; or cocktail-sized samosas, Indian pastries filled with vegetables. Make your own rich appetizers using frozen puff pastry sheets filled with duxelles, finely chopped mushrooms cooked with butter, shallots and herbs.
Bread With ... Anything
For fancy crackers or baguette slices, toasted or not, choose toppings with rich or salty flavors that balance either the acidity of dry champagne or the sugar in sweet champagne. Your options include toppings such as a dab of crab or shrimp salad; goat cheese topped with roasted red peppers; tapenade, an olive paste made with olives, garlic, anchovies and olive oil; or an unusual or especially delicious cheese. Try slices of Parmesan, blue cheese or Manchego, a sheep's milk cheese.
The Vegetable Kingdom
Like fruit, crunchy vegetables have a light taste that matches the light flavor of champagne. Elevate your vegetable appetizers above the level of simple carrot and celery sticks with interesting dips and presentations. Try a slice of salami on top of a cucumber slice or beautiful, multi-colored radishes served on a buttered, cold slice of rye bread. Endive lettuce leaves are just the right size and shape for holding a creamy walnut and blue cheese spread or a small dab of shrimp salsa.
References
The Flavor Bible; Karen Page and Andrew Dornenburg
The Deluxe Food Lover's Companion; Sharon Tyler Herbst and Ron Herbst
Writer Bio
Susan Lundman began writing about her love of cooking, ingredient choices, menu planning and healthy eating after working for 20 years on children's issues at a nonprofit organization. She has written about food online professionally for ten years on numerous websites, and has provided family and friends with homemade recipes and stories about culinary adventures. Lundman received her M.A. from Stanford University.
Photo Credits
Hemera Technologies/Photos.com/Getty Images