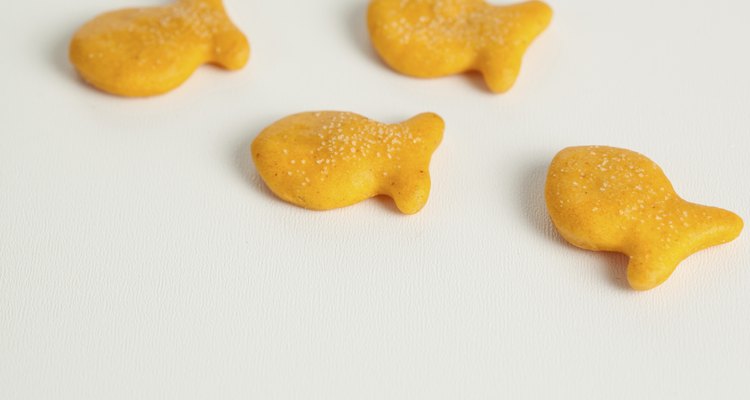 Izaphoto/iStock/Getty Images
Baked Goldfish crackers, a product of Pepperidge Farm, have been on the market since 1962, when Margaret Rudkin purchased the recipe from a baker in Switzerland. Pepperidge Farm -- eventually sold to the Campbell Soup Company -- still remains the brand name of cakes, cookies, breads, crackers, desserts, pastry and side dishes, as well as the ever-popular Goldfish crackers.
Varieties
Goldfish crackers, with that familiar goldfish grin, have evolved from the small, crunchy, golden goldfish-shaped cracker to a variety of crackers including Goldfish Colors, Cheddar, Whole Grain, Pretzel, Parmesan, Pizza, Baby Cheddar, World Treasures, Garden Cheddar, Flavor Blasted Garden Cheddar, Racing Ranch, Slammin' Sour Cream and Onion. Goldfish Grahams include Chocolate, Cinnamon, Vanilla, Honey and S'mores Adventures.
Nutrition Facts
One serving of 55 original Goldfish baked snack crackers has 150 calories, 6 g of fat, 230 mg of sodium, 20 g of carbohydrates and 3 g of protein. One serving of 51 Flavor Blasted Goldfish crackers has 140 calories, 5 g of fat, 250 mg of sodium, 19 g of carbohydrates and 4 g of protein. One serving of 50 Goldfish Chocolate Grahams has 130 calories, 4 g of fat, 125 mg of sodium, 22 g of carbohydrates, 2 g of dietary fiber, 11 g of sugars and 2 g of protein.
Ingredients
Pepperidge Farm Goldfish contain unbleached, enriched wheat flour; sunflower, canola and/or soybean oil; yeast; sugar; spices; autolyzed yeast; monocalcium phosphate; ammonium bicarbonate; baking soda; and onion powder. Each flavor will have additional ingredients, such as cheddar solids, Parmesan cheese solids, chocolate, cinnamon, vanilla and honey. Pepperidge Farm Goldfish crackers do not contain preservatives.
Vitamins and Minerals
Pepperidge Farm fortifies the Goldfish cracker ingredients with several essential vitamins and minerals. These micronutrients include niacin, reduced iron, thiamin, vitamin B-1, vitamin B-2 and folic acid. However, none of these products provides a substantial amount of these nutrients. For instance, original Goldfish crackers provide only 2 percent of the daily value of calcium and 4 percent of the daily value for iron. Cheddar Goldfish provide 4 percent of the daily value of calcium and only 2 percent of the daily value for iron. These values are indicative of most flavors.
Writer Bio
Based in Atlanta, Valerie Liles has been writing about landscape and garden design since 1980. As a registered respiratory therapist, she also has experience in family health, nutrition and pediatric and adult asthma managment. Liles holds a Bachelor of Arts in journalism from Colorado State University and a Master of Science in technical communication from the University of Colorado.
Photo Credits
Izaphoto/iStock/Getty Images