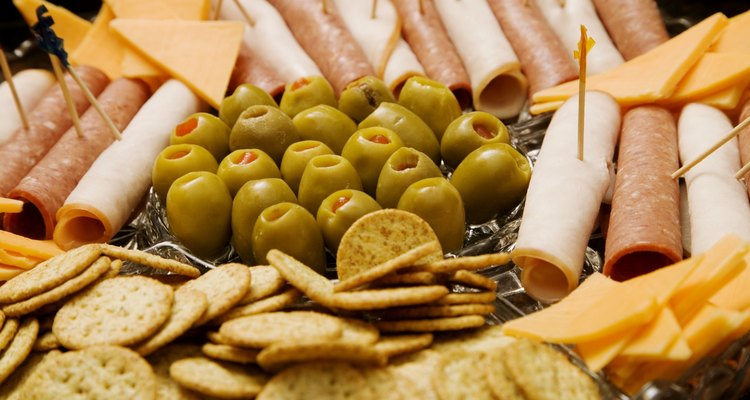 Design Pics/Design Pics/Getty Images
Keebler Club Crackers have a light, buttery taste and a common party snack. Club crackers provide little nutritional value in terms of vitamins or minerals but they remain one of Keebler's most popular products. Keebler sells eight different varieties of Club Crackers including Buttery Garlic, Cheddar, Multi-Grain, Club Minis, Snack Sticks, Reduced Fat, Honey Wheat, and Original Club. The nutritional information covers only Keebler Club Original Crackers.
Serving Size and Calories
Four Original Club crackers make up one serving and a 16 oz. box of Club Crackers contains 32 servings. A single serving of Keebler Club Original Crackers has 70 calories and 25 of these calories come from fat.
Ingredients
Keebler Club Original Crackers are made of vegetable shortening, high fructose corn syrup, soybean oil, sugar, riboflavin, thiamine and enriched flour. The enriched flour contains wheat flour, niacin, folic acid and baking soda.
Fat, Sodium and Cholesterol
One serving has 0.5 g of saturated fat, 2g of polyunsaturated fat, and 1g of monounsaturated fat. The total fat content makes up 5 percent of the daily value needed on a 2,000-calorie diet. A serving has 0g trans fat. Four Keebler Club Crackers contain 125mg of Sodium which represents 5 percent of the daily value. Club crackers contain 0mg of cholesterol.
Carbohydrates and Protein
Keebler Club Original Crackers do not provide a significant source of carbohydrates or protein in a serving. The crackers contain 9g of total carbohydrates. This provides 3 percent of the daily amount you need on a 2,000-calorie diet. One serving provides 1g of dietary fiber, which makes up 4 percent of the daily value. Keebler Club Crackers only contain 1g of protein per serving.
Vitamins and Minerals
Keebler Club Original Crackers do not provide a significant source vitamins or minerals. The crackers contain 0g of vitamin A, vitamin C, iron, potassium and calcium. Do not look to Keebler Original Club Crackers as vitamin source.
References
Writer Bio
Based in Chicago, Elisabeth Andersen has been writing since 1990. She authors health-related articles and booklets for various hospitals and clinics, focusing on nutrition, healthy living, and exercise. Andersen is a registered dietitian and certified diabetes educator. She holds a Bachelor of Science in nutritional science from Southern Illinois University.
Photo Credits
Design Pics/Design Pics/Getty Images