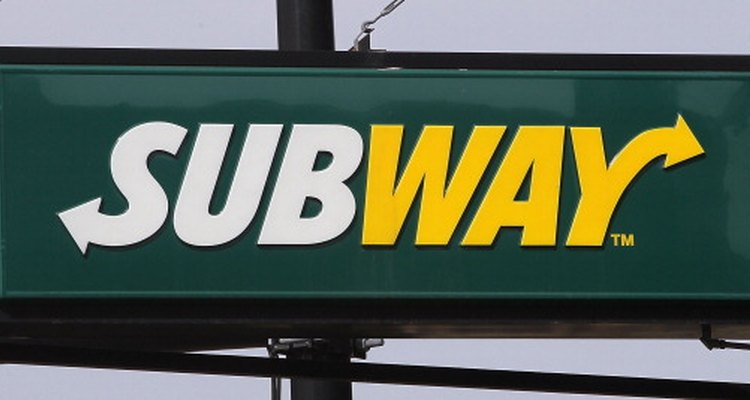 Scott Olson/Getty Images News/Getty Images
Subway is a restaurant chain that specializes in sub-style sandwiches and salads. The first store was opened in Bridgeport, Connecticut by a 17-year-old teen named Fred DeLuca, who was trying to pay for medical school. Today, Subway restaurants offer 12 different kinds of sandwich bread.
Regular Breads
Subway restaurants offer nine different kinds of 6-inch and foot-long bread choices. You are able to choose from nine-grain wheat, hearty Italian, honey oat, white Italian, Italian herb and cheese, Monterey cheddar, Parmesan organ, roasted garlic and sourdough breads. The nine-grain wheat bread and honey-oat bread are marketed as the healthy alternatives to the other breads containing cheese.
Flatbread
Subway restaurants also offer flatbreads as a healthier option to the regular 6-inch sub breads. Restaurant patrons can get any regular foot-long sub on a flatbread sandwich for the same price. Patrons can also have their flatbread sandwiches toasted. Flatbreads contain 220 calories, including 40 from fat.
Mini Breads
Subway restaurants offer mini breads for children and those who wish to consume a smaller sandwich. The mini breads come in Italian and wheat and contain between 130 and 140 calories. The mini sandwiches are 4 inches in length.
Considerations
If you are looking for a healthier sandwich, Subway advertises eight different sandwiches that contain 6 g of fat or less. These sandwiches include the ham without cheese, oven-roasted chicken, roast beef, Subway club, sweet onion teriyaki, turkey breast, turkey breast and ham and the Veggie Delite. These sandwiches can also be served on the flatbread, but some will contain more than 6 g of fat.
References
Writer Bio
Megan Kelly started writing professionally in 2007 when she was published in the anthology, "Lit Kids: Mama Bird and the Electric Rabbit" through Mill City Press. She is also a submissions reviewer and grant writer for "Spout Press," an independent magazine in Minneapolis. Kelly is pursuing her Bachelor of Arts in English literature from the University of Minnesota.
Photo Credits
Scott Olson/Getty Images News/Getty Images