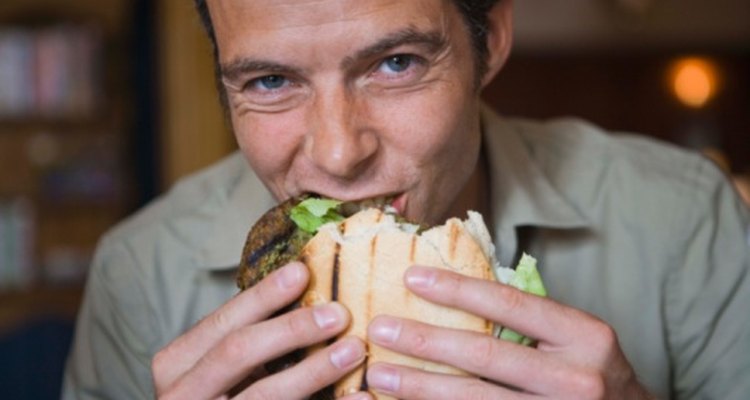 Jupiterimages/BananaStock/Getty Images
Fuddruckers claims to make the world's greatest hamburger -- pretty big words considering the competition. Fans of Fuddruckers restaurant know that their tasty burgers are certainly a contender. But how much damage will those juicy burgers and tasty fries do to your diet? It's no surprise that Fuddruckers isn't exactly health food, but with some smart choices you can enjoy a Fuddruckers meal and not go too far overboard.
Healthy Options
Fuddruckers may be known for their burgers, but there are plenty of options that are friendlier for the health conscious. The grilled chicken breast on a wheat bun has only 401 calories and 8.4 g of fat. The Market Toss salad is a decent choice, but the bacon topping raises the fat content, so ask if you can get the salad without it. Topped with apples, cranberries and almonds, the Napa Valley salad is lower in calories and packed with beneficial nutrients.
Burger Recommendations
While there are lower-calorie choices, true Fuddruckers fans know it's all about the burger. So opt for the 1/3 pound burger--the smallest on the menu. Choose the wheat bun, which saves 19 calories and almost 2 g of fat while providing more nutrition. Then, when piling it high with toppings at the Market Fresh Produce bar, stick to the produce. Take a pass on the high-calorie toppings like the Fudds cheese sauce and mayonnaise and choose healthier toppings like tomatoes, onions, lettuce and their delicious homemade pico de gallo.
Appetizers and Side Dishes
Fuddruckers appetizers include mozzarella sticks, boneless chicken wings and tricked out nachos. If you're watching your calorie intake, you might want to avoid the appetizers or else share an appetizer to minimize the quantity. A popular side choice, the Fudd fries have 120 calories and 3 g of fat. The sweet potato fries offer a little more nutritional value and, since they're only lightly salted, they're lower in sodium.
Desserts
Fuddruckers offers a variety of cookies for dessert options. You know you're splurging a bit if you choose a chocolate chip, white chocolate macadamia nut, oatmeal raisin, m & m or sugar cookie, but at least you can rest easy knowing Fuddruckers doesn't use any artificial trans fats in their cookies. You can also opt for a hand-blended shake for dessert.
References
Writer Bio
A native Midwesterner, Maggie Vink has been writing for more than 15 years. After a stint as a software industry technical writer, Vink began writing about her passions including health/wellness, parenting and DIY. She studied journalism at Oakland University and health information technology at Davenport University.
Photo Credits
Jupiterimages/BananaStock/Getty Images