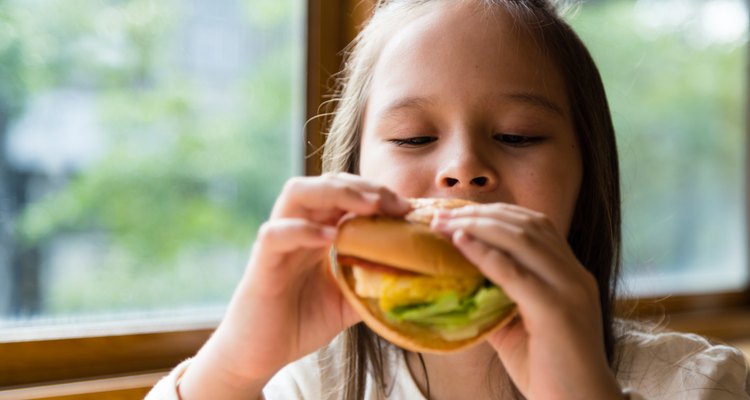 Images_By_Kenny/iStock/Getty Images
If you are health conscious, fast food is probably far from your first choice as a meal. However, if you are trying to transition to a healthier lifestyle, it can be difficult to give up on fast food entirely. Also, you may find yourself in a situation where fast food is the only option such as on a long road trip. If you are trying to find healthy or simply lower calorie options in fast food establishments, a good place to start is looking for items with 250 calories or less.
Savory Breakfast Options
If a breakfast sandwich is what you're in the mood for, you'd be glad to know there are some lower calorie options. At Subway, all egg muffin melts whether made with whole eggs or egg whites are all under 250 calories except the mega sandwiches or the sausage, egg, and cheese melts. Dunkin Donuts has Wake Up Wraps, which are like small breakfast burritos and all of them except the sausage, egg, & cheese are under 250 calories. Del Taco offers a breakfast al carbon that has only 140 calories. For a substitute to your routine morning toast, both McDonald's and Dunkin Donuts offer plain English muffins that re 160 calories each.
Sweet Breakfast Treats
If you're interested in a sweet treat, McDonald's fruit and yogurt parfait has only 160 calories. Dunkin Donuts also has some lower calorie donut options under 250 calories, or you can opt for 3 or 4 of their munchkins.
Chicken
Crispy chicken is quick and portable and there are portions that fall under 250 calories. Burger King, McDonalds, and Carl's Jr. offer 4-piece chicken tenders that are under 200 calories; Burger King also offers 6-piece chicken fries with 250 calories. Wendy's also offers 5-piece chicken nuggets on their value menu with 230 calories. You may even be surprised to know that there are some options at KFC. You can get an Original Recipe wing, drumstick, or breast without skin or breading, an Extra Crispy wing or drumstick, a Spicy Recipe drumstick or wing, or any of the grilled chicken pieces.
Sandwiches
Believe it or not, you can still get a hamburger with 250 calories or less, but the options are very basic. You can get a small hamburger at McDonald's, a junior hamburger at Wendy's, or a kid's hamburger at Carl's Jr. For a similar beefy experience, you also get a junior roast beef at Arby's or you can change things up and get a junior ham and cheese. Subway's Veggie Delite sandwich is also under 250 calories either as a 6-inch sub or on a flatbread. For a smaller sandwich option, try KFC's Crispy Strip Snacker without sauce, Buffalo Style Snacker, or Honey BBQ Snacker. Subway also has mini subs that are all under 250 calories.
Alternative Entrée Options
Tacos are another quick and portable alternative to a loaded hamburger. At Taco Bell, all their fresco style tacos have less than 200 calories. Taco Bell's chicken soft taco, crunchy taco, chicken tacos, grilled steak soft taco, pacific shrimp taco, soft taco supreme, beef soft taco and taco supreme have less than 250 calories each. At Del Taco, any of the tacos that do not have "big fat" or "crispy" in the title have less than 250 calories each. If you want something hot and soothing, Subway offers a variety of 10 oz. soups that are mostly under 250 calories.
Salads
While we often think of salads as a guaranteed healthy option, they are not always low in calories. Cheese, dressings, and croutons can drive up the calories quickly. At Burger King, you can opt for their value side salad with either with a light or fat-free dressing. At McDonald's, you can get the southwest salad or bacon ranch salad without the chicken and choose from various dressings. One of the healthiest fast food options is the snack size fruit and walnut salad at McDonald's.
Desserts
Once in a while you may drop by a fast food establishment just for dessert or a sweet treat. At McDonald's, you can get a reduced fat vanilla ice cream cone, one baked apple pie or one cookie and keep it under 250 calories or less. At KFC you can get an apple turnover, strawberry shortcake parfait, or a cookie. At Subway, those large rich-looking cookies and their apple pie surprisingly have less than 250 calories each. Taco Bell's cinnamon twists have only 170 calories and at Del Taco, you can get a churro or a chocolate chip cookie and eat 200 calories or less.
References
Resources
Writer Bio
Chef Parul Desai began writing professionally in 2011. She maintains a healthy cooking blog and has taught cooking classes, worked in restaurants, created educational materials and written recipes. Desai received her Bachelor of Science in dietetics from Virginia Tech and completed her internship with ARAMARK. Later, she went to the Institute of Culinary Education to become a certified chef.
Photo Credits
Images_By_Kenny/iStock/Getty Images