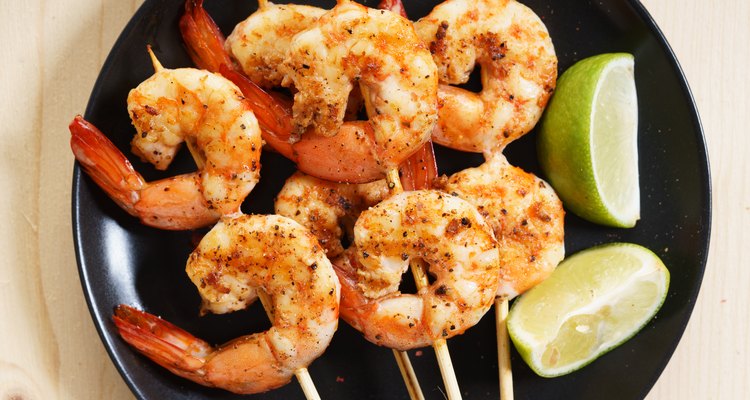 SherSor/iStock/GettyImages
The Bubba Gump Shrimp Company opened in 1996 in Monterey, California, according to the company website. As of 2010, there were more than 30 restaurants around the United States and the world. The seafood-forward menu may focus on shrimp, but it also features salads, soups and chicken dishes.
Many of the dishes contain high amounts of calories, so you may need to make careful choices when trying to maintain a healthy weight and eating at Bubba Gump Shrimp Company.
Soup and Salad Combo
If you're on the hunt for a low calorie option at the Bubba Gump Shrimp Company, you can consider their Soup and Salad Combo option, featuring either shrimp gumbo at 200 calories or clam chowder at 160 calories, alongside a 400 calorie caesar salad or a 210 calorie garden salad.
According to LIVESTRONG's food database MyPlate, a one cup serving of shrimp gumbo with chicken and andouille sausage contains seven grams of fat, including two grams of saturated fat, 18 grams of carbohydrates, two grams of dietary fiber, five grams of sugar and 13 grams of protein.
A one cup serving of clam chowder contains 10 grams of fat, 21 grams of carbohydrates, two grams of dietary fiber and six grams of protein.
While the term "salad" might fool you into thinking such an option is always a healthy choice, some salads are just as unhealthy as other menu items. The caesar salad is significantly more fattening than the garden salad with over 30 grams of fat and eight grams of saturated fat, as well as 13 grams of carbohydrates, three grams of dietary fiber, two grams of sugar and 16 grams of protein.
In comparison, the garden salad will have around 10 grams of fat (depending on your dressing of choice), five grams of saturated fat, 13 grams of carbohydrates, six grams of dietary fiber and 10 grams of protein.
Pear and Berry Salad
The Pear and Berry Salad is another option at the Bubba Gump Shrimp Company that is on the healthier side. The salad does not contain shrimp, but chicken on a bed of greens with strawberries, pears and glazed pecans.
A serving of pear and berry salad with raspberry vinaigrette is 710 calories. The restaurant also recommends substituting shrimp for chicken, which adds an additional 10 calories. The vast majority of calories in this salad come from the vinaigrette, which can have 160 calories for every two tablespoon serving, according to MyPlate.
To save some calories with this dish, either ask for the raspberry vinaigrette on the side, or substitute for a healthier dressing option, like oil and vinegar, or a balsamic vinaigrette.
Bourbon Street Mahi Mahi
Most of the entrees at the Bubba Gump Shrimp Company contain between 720 and 1,500 calories. The Bourbon Street Mahi Mahi is one of the lowest-calorie entrees on the menu.
One serving of this Cajun spiced dish, with a bourbon sauce, grilled shrimp and mashed potatoes, contains 770 calories. To lessen that number, you can order without the potatoes and ask for the bourbon sauce on the side.
I'm Stuffed Shrimp
Another entree choice may be the I'm Stuffed Shrimp, served with crab stuffing, baked in garlic butter and monterey jack cheese, and presented over jasmine rice, which will put you back 1,000 calories in this one meal.
To save calories, you can ask your server to omit the Monterey Jack cheese on top. According to MyPlate, you'll save 100 calories for every ounce of cheese they don't include in your meal.
More About MyPlate
The free LIVESTRONG MyPlate calorie tracker app for iPhone and Android has helped millions of people lose weight the healthy way — by getting support from an active community as they track their eating and exercise. Consistently a top-rated app, MyPlate offers the latest technology in an easy-to-use tool that includes millions of foods and recipes, 5-minute in-app workouts and a robust support community.
References
Writer Bio
Jill Corleone is a registered dietitian and health coach who has been writing and sharing her love of food, nutrition and health with anyone who'll listen for almost 20 years. Her work has been featured on the Huffington Post, Diabetes Self-Management and Working Mother.