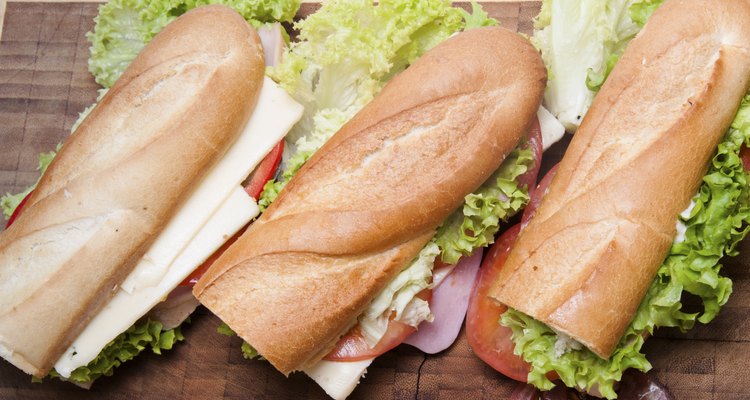 gargantiopa/iStock/Getty Images
Drive for just a few minutes in any American city, and you're bound to see the familiar yellow and green lettering of a Subway restaurant. This submarine sandwich chain, which dates back to 1965 and has more than 37,000 locations across the world, as of 2014, markets itself as providing a healthy alternative to traditional fast food. Much of Subway's menu has a relatively low caloric content for customers who are health-conscious.
Always Eat Your Veggies
Giving the title of "low calorie" to any food items is subjective, but Subway has a number of sandwiches with a notably lower caloric content than other items on the menu. Among 6-inch subs, the Veggie Delite sub on nine-grain wheat bread and without cheese has the lowest number of calories, with 230. Other low-calorie options include the turkey breast or turkey breast and ham, each of which contains 280 calories. A black forest ham sub is another low-calorie choice, with 290 calories.
For the Mini-Sized Eater
If you're conscious of your caloric intake or have a small appetite, Subway's mini subs are smaller is size and contain fewer calories than their 6-inch counterparts. The company's mini subs range in caloric content from 150 to 200 calories. The Veggie Delite mini sub contains 150 calories, the black forest ham and turkey breast mini subs each have 180 calories and the roast beef mini sub has 200 calories.
Start the Day Off Right
If you're running late for work, a quick stop at a Subway restaurant provides a number of breakfast choices. Subway's breakfast sandwiches range considerably in calories, but many contain fewer than 200 calories. On average, the lowest-calorie choices are the egg white sandwiches on flatbread. Among these, the lightest option is the egg white and cheese flatbread, with 170 calories. The black forest ham, egg white and cheese flatbread has 180 calories, while the bacon, egg white and cheese and steak, egg white and cheese flatbreads each have 190 calories.
On the Lighter Side
Customers who enjoy the standard Subway ingredients but who don't favor the addition of a bun have a choice of several salads, which are notably lower in calories than their sandwich counterparts. The Veggie Delite salad is the lowest-calorie choice, with 60 calories. With 110 calories, the black forest ham, turkey breast and turkey breast and ham salads aren't far behind. Regardless of your salad choice, topping it with Subway's fat-free Italian dressing is healthier than using ranch dressing. Per serving size, the two dressings contain 35 calories and 320 calories, respectively.
References
Resources
Writer Bio
Toronto-based journalist William McCoy has been writing since 1997, specializing in topics such as sports, nutrition and health. He serves as the Studio's sports and recreation section expert. McCoy is a journalism graduate of Ryerson University.
Photo Credits
gargantiopa/iStock/Getty Images