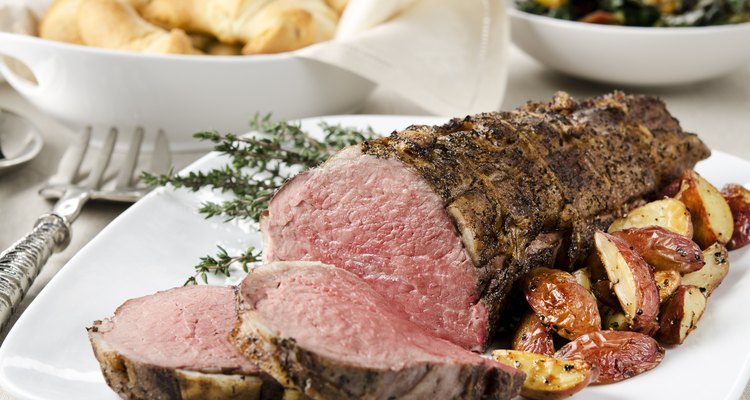 NightAndDayImages/E+/GettyImages
Texas Roadhouse is an American steakhouse with more than 400 locations across 49 U.S. states, according to its website.
Some of the chain's most popular items include steaks, ribs and chicken dishes. Nutritional information is provided directly on the Texas Roadhouse website, with a caveat that there may be some variation in nutritional values considering that dishes are handcrafted in each of the locations.
Tips for Eating at Texas Roadhouse
"If you're going to Texas Roadhouse, chances are that eating healthy might be the furthest thing from your mind," says Sarah Pflugradt, registered dietician. "However, if you find yourself going, there are some things to look out for."
Pflugradt notes that about 90 percent of the menu is not considered healthy by a dietitian's standard. "The main problem is not so much with the calorie counts for most of the items on the menu, but with the sodium content. Some of the salads have over 4,000 milligrams of sodium! Even the green beans have over 1,000 milligrams of sodium."
To make your trip to Texas Roadhouse a more healthy one, Pflugradt suggests ordering the following:
Sirloin Steak 6 ounce without sauce
Sweet Potato without additions
"A good steak needs no accompaniment," Pflugradt says, regarding the removal of the sauces. "The total for that meal is only 600 calories and 680 milligrams of sodium, and it should fill you up. If you must have the honey butter on top, you'll add an additional 100 calories and 125 milligrams of sodium for the entire serving, but try only using half. Most of the time, they give you too much anyway."
Finally, in lieu of a fancy, calorie-packed beverage, the registered dietitian suggests, "Always order a plain water for your drink and add lemon if you like a little flavor."
Texas Roadhouse Lunch Menu Nutrition
Texas Roadhouse has a legendary lunch menu with several items to choose from, some of which may not be readily available in all locations.
Here's the nutritional information for a few of its lunch menu options:
Chips & Chili Queso Dip (540 calories)
Filet Medallions With Seasoned Rice (630 calories)
Chicken Critters & Steak Fries (700 calories)
California Chicken Sandwich (710 calories)
San Antonio Chicken Cobb Salad (760 calories)
Steakhouse Filet Salad (820 calories)
BBQ Roasted Half Chicken With Sirloin (900 calories)
Boneless Buffalo Wings & Steak Fries (1,210 calories)
As lunch portions tend to be smaller than dinner portions, you can already see how the calories can add up quickly.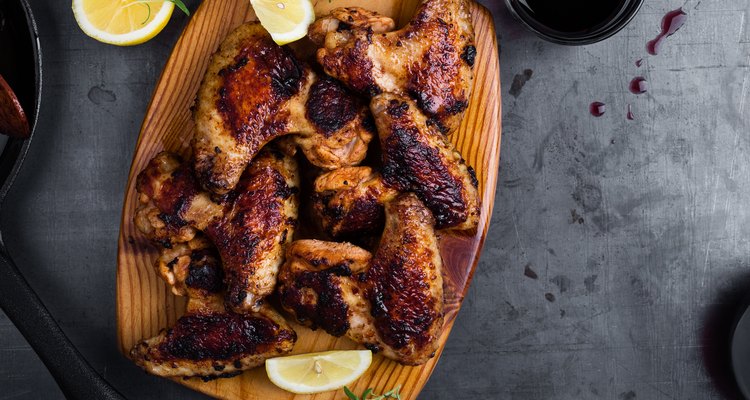 istetiana/Moment/GettyImages
Texas Roadhouse Dinner Menu Nutrition
The calorie count for a Texas Roadhouse dinner can skyrocket fast, especially when partaking in an appetizer, salad, main course and dessert. Take the following nutritional information into consideration when you order and, if you're watching your weight while eating out, know that you can always save a portion of each of your meal components to enjoy later!
Appetizers
Not all appetizers are created equal. Take the following five for example, which are a combination of the lowest- through highest-calorie apps on the Texas Roadhouse menu:
Loaded Potato Soup Cup (150 calories)
Grilled Shrimp (240 calories)
Fried Pickles (550 calories)

Cheese Fries With Chili (1,460 calories)
Cactus Blossom (1,700 calories)
The Grilled Shrimp appetizer is "RD-approved," according to registered dietician Sarah-Jane Bedwell on Self.com, who writes, "Share it with friends for a smart start to your meal."
Smaller than a full dinner-size portion, any of the aforementioned appetizers would be fair options to consider for a meal in and of themselves as well. If you're looking to keep your calorie count low, you might want to stick to the first two options.
Salads
While many who are watching their calorie intake may automatically seek out the salad menu, assuming the lowest-calorie dishes at any restaurant reside there, some of the highest-calorie meals may be lurking within. Depending on toppings and dressings, some salad components can make your meal even more caloric than a steak dinner.
The following five salads make up a sample of the lowest- through highest-calorie salad options on the Texas Roadhouse menu:
Chicken Critter Salad (690 calories)
Grilled Shrimp House Salad (730 calories)

Grilled Chicken Salad (810 calories)
Chicken Caesar Salad with dressing included (1,050 calories)
Salmon Caesar Salad with dressing included (1,150 calories)
Also take note that a Caesar side salad will be 420 calories with dressing included, while a house side salad will run you 230 calories before the addition of salad dressing. Keep in mind your salad dressing options for your main salad or side salad, as these can drastically change the nutrition of your dish.
Each of the following calorie counts is based on two ounces of dressing:
Italian (270 calories)
Thousand Island (270 calories)
Bleu Cheese (280 calories)

Ranch (290 calories)
Caesar (310 calories)

When ordering, consider asking for your dressing on the side so you have control over the quantity you consume.
Steaks
Steaks at the Texas Roadhouse are a true staple of the restaurant, with sizes ranging from six ounces to 23 ounces. As a result of this wide variety, calorie counts are varied as well. The following are two lists of the best and worst steak options based on calorie count:
Lowest-Calorie Steak Dishes
USDA Choice Sirloin 6 ounces (250 calories)
Dallas Filet 6 ounces (270 calories)

USDA Choice Sirloin 8 ounces (340 calories)
Dallas Filet 8 ounces (360 calories)
New York/Kansas City Strip 8 ounces (420 calories)
Highest-Calorie Steak Dishes
Bone-In Ribeye 20 ounces (1,480 calories)
Ft. Worth Ribeye 16 ounces (1,280 calories)
Prime Rib 16 ounces(1,250 calories)
Porterhouse T-Bone 23 ounces (1,040 calories)
Steak Kabob With Seasoned Rice (1,000 calories)
None of the above calorie counts includes the steak smothers that you can add to your steak dish. These add-ons range from 70 calories for two ounces of brown gravy to 240 calories for an addition of grilled shrimp.
Ribs
Ribs at Texas Roadhouse are offered as a half slab for 900 calories or a full slab for 1,450 calories.
You can also order several combo platters. Here are four options that represent the lowest-calorie and highest-calorie combos:
Sirloin 6 ounces With Grilled Shrimp (490 calories)
Grilled BBQ Chicken With Sirloin 6 ounces (510 calories)
Ribeye 12 ounces With Ribs (1,510 calories)
Ribeye 10 ounces With Ribs (1,350 calories)
Note that even though the first dish is under 500 calories, it's offered with an ounce of garlic butter sauce, which will add an additional 170 calories to your meal.
Chicken
If a chicken-based lunch or dinner is what you're hankering for, Texas Roadhouse has you covered, with 11 dishes and a wide range of calories. The following represent the lowest- and highest-calorie chicken dishes:
Grilled BBQ Chicken (260 calories)
San Antonio Chicken (1,540 calories)
Also keep in mind that one of the lower-calorie chicken dishes — the Chicken Critters, at 480 calories — can be misleading in that the 480 calories does not include the sauces you can choose to go along with it. You can add two ounces of barbecue sauce for an additional 80 calories, ranch dressing for an additional 290 calories or honey mustard for an additional 320 calories.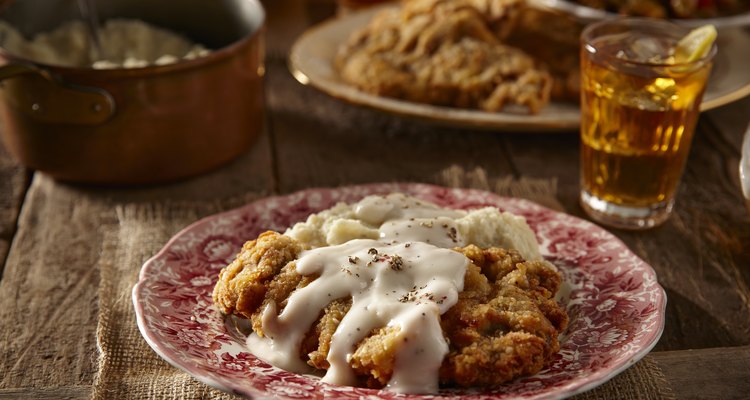 Lew Robertson/Corbis/GettyImages
Country Dinners
Many go to Texas Roadhouse for a bit of home-cooking taste from the country dinner menu. With the exception of two items, each entree will set you back 800 calories or more. Here is the lowest-calorie dish and the highest-calorie dish:
Single Grilled Porkchop (290 calories)
Country Fried Sirloin (1,100 calories)
Burgers
If you're hoping to save some calories by ordering from the burger menu at Texas Roadhouse, think again; there is only a 190-calorie difference between the lowest- and highest-calorie burgers:
All-American Cheeseburger (1,010 calories)
Smokehouse Burger (1,200 calories)
You can also add sliced avocado to your burger of choice for an additional 80 calories.
Seafood
From shrimp and salmon to catfish and classic fish and chips, Texas Roadhouse has the seafood lovers covered as well. The lowest- and highest-calorie seafood menu items are as follows:
Grilled Salmon 5 ounces (320 calories)
Fish & Chips With Steak Fries (1,180 calories)
Make sure you avoid the tartar sauce with your fish and chips — unless you want to add 390 calories to your meal, bringing the calorie total to 1,570.
Desserts
What meal is complete without a dessert? While it can be hard to share a sweet treat, when you consider the calorie content in the best and worst categories below, you might want to ask for an extra fork or two:
Strawberry Cheesecake (780 calories)
Granny's Apple Classic (1,260 calories)
If sharing is not your thing, you can always pack up half for another day!
Sides
Depending on whether your meal of choice comes with sides to your liking, you might be in the market to add another side or two to your meal. With a long list to choose from, we've picked out the Texas Roadhouse top three sides (calorie-wise)and bottom three:
Sauteed Mushrooms (90 calories)
Green Beans (100 calories)
Apple Sauce (150 calories)
Sweet Potato loaded with mini marshmallows and caramel sauce (770 calories)
Baked Potato loaded with cheddar cheese, bacon bits and sour cream (650 calories)
Steak Fries loaded with cheddar cheese and bacon bits (510 calories)
You can also ask about a fresh veggie side option, which changes seasonally and restaurant to restaurant. As Self.com's Bedwell notes, "Keep your sides smart by choosing the fresh veggies (a mix of steamed seasonal veggies) and the baked sweet potato, both of which make a colorful and flavorful counterpart to the steak or salmon." Just make sure your baked sweet potato doesn't come with any of the caloric add-ons listed above.
Read more: The 5 Worst Chain Restaurant Meals (and 5 Better Options)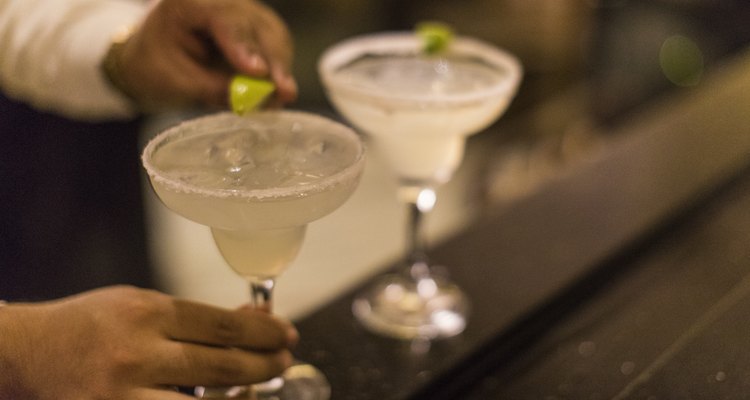 Texas Roadhouse Drink Menu Nutrition
Unless you're planning on ordering water with your meal, liquid calories can add up quickly. Take a look at the options available at Texas Roadhouse below, broken up into nonalcoholic and alcoholic beverage options.
Nonalcoholic Beverages
On the nonalcoholic beverage front, Texas Roadhouse offers a variety of soft drinks, lemonades, iced teas, coffee, juice and milk. Here are some of the lowest- and highest-calorie nonalcoholic drink options:
Dasani Bottled Water (0 calories)
Diet Coke (0 calories)
Unsweetened Original Iced Tea (0 calories)

Coffee, decaffeinated and regular (5 calories)
Unsweetened Raspberry Iced Tea (40 calories)
Regular Hi-C Orange (150 calories)
Regular Blue Crush Lemonade (150 calories)
Regular Red Raspberry Lemonade (150 calories)
Regular Wild Strawberry Lemonade (150 calories)
Chocolate Milk (150 calories)
If you want to play it safe on the beverage side, stick to water, a diet soda, iced tea or coffee, and try to avoid the lemonade.
Alcoholic Beverages
Texas Roadhouse also offers a bevy of alcoholic drinks for the over-21 customers, ranging from margaritas and margarita kickers to signature cocktails and wine. Here are the lowest- and highest-calorie alcoholic drink options:
Lowest-Calorie Alcoholic Drinks
1800 Kicker (60 calories)
Margaritaville Gold Kicker (60 calories)
Patron Kicker (60 calories)
Armadillo Punch (130 calories)
Blush Wine 6 ounces (130 calories)

Highest-Calorie Alcoholic Drinks
Frozen Peach Margarita 18 ounces (480 calories)
Frozen Raspberry Margarita 18 ounces (470 calories)
Frozen Strawberry Margarita 18 ounces (470 calories)
Frozen Hurricane Margarita 18 ounces (460 calories)
Frozen Jamaican Cowboy Margarita 18 ounces (440 calories)

Those looking for a little buzz with their meal without going calorie crazy might consider one of the Texas Roadhouse margarita kickers instead of a frozen margarita.
Texas Roadhouse Kids Menu Nutrition
A true family restaurant, Texas Roadhouse has your kids covered with its kid-friendly menu items as well. With Kids Meals and Ranger Meals (for older kids with slightly bigger appetites), there's something for everyone. Listed below are some crowd favorites, from the best to worst in terms of calorie content:
Grilled Chicken Kids Meal (160 calories)
Lil' Dillo Steak Bites Kids Meal (170 calories)
All Beef Hot Dog with Chili Kids Meal (440 calories)
Ranger Rib Basket Rangers Meal (550 calories)
Mini-Cheeseburgers Kids Meal (610 calories)
Keep in mind that none of the options above come with a side dish or drink, both of which will add calories to these meals.
Texas Roadhouse Gluten-Free Menu
When it comes to both gluten and allergens, Texas Roadhouse tried to accommodate all its guests' dietary needs.
We have a gluten-friendly menu which is on our website. Nobody can guarantee it's gluten-free unless it's cooked in a separate factory or separate kitchen, so we say 'gluten-friendly' because we do our best to accommodate our guests in our kitchens.

On the allergens, for our guests we just say just let us know and we can help. We have a lot of flexibility and variety since we make everything from scratch.

—Travis Doster, senior director of communications and public affairs at Texas Roadhouse
While Texas Roadhouse does not have a separate gluten-free menu for its patrons, it does label some dishes on its website as gluten-friendly "because most Texas Roadhouse dishes are made from scratch, cross-contact with allergens can occur."
Those with gluten sensitivities are advised to review the following suggested "gluten-friendly" menu items with a medical professional before dining there:
Steak without seasoning or butter
Chicken without marinade
Porkchops without seasoning or sauce
Salmon
Steak Kabob without rice

House Salad with oil and vinegar to dress
Fresh Vegetables with salt and pepper
Baked Potato with salt and pepper
Sweet Potato with salt and pepper

Grilled Chicken Salad without the chicken marinade and croutons; with oil and vinegar to dress
Steakhouse Filet Salad without the seasoning on the filet; with oil and vinegar to dress
If you have further questions, contact Texas Roadhouse directly.
Texas Roadhouse Allergen Menu
The Texas Roadhouse website specifically addresses concerns with one allergen: peanuts. The only way the restaurant can assure those with peanut allergies will have a peanut-free meal is by ordering takeout and not coming into the restaurant itself to enjoy a meal because the restaurant offers free peanuts to every table.
The website explains, "Free peanuts are a very popular item for our guests, and we will continue to offer them. We understand that, unfortunately, peanut allergies may force some Roadhouse guests to steer clear of our restaurants. That's why we gladly offer carryout service to all of our guests."
The company goes on to offer that it will even have your takeout order delivered directly to your car to further limit exposure.
For other allergen questions or concerns, contact Texas Roadhouse.
References
Writer Bio
A.J. Walkley earned a B.A. in literature from Dickinson College in 2007 before heading into the U.S. Peace Corps as a health volunteer in Malawi, Africa. Upon her return to the States, she became a United Nations correspondent and freelance writer working out of New York City, before moving to the Los Angeles area. She is currently writing out of Connecticut.