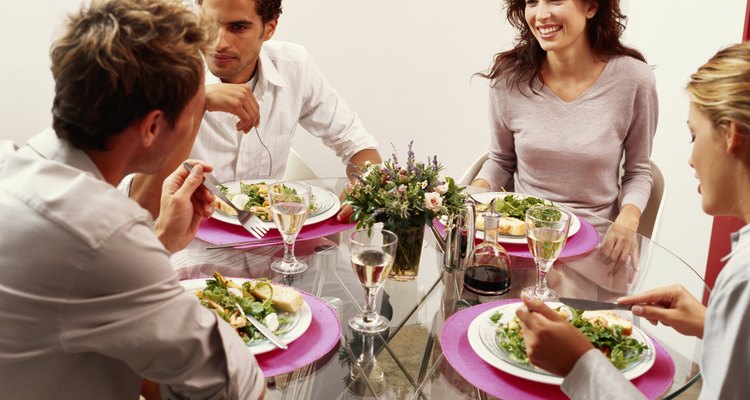 Stockbyte/Stockbyte/Getty Images
The South Beach Diet is a low-carbohydrate eating plan with flexible food choices that permit dining out within certain easy-to-follow guidelines. Restaurant menus typically provide carbohydrate-heavy options, especially during the first course. Appetizers like bread and butter, tortilla chips and salsa, and other items come to the table even if you don't request them. As a dieter, you can control the food on your plate since you are the customer, too.
General Dining Tips
Keep the bread basket on the other side of the table, and if someone offers bread, politely decline it. If no one objects, ask the server to remove the bread basket after everyone is served. Order grilled, roasted or broiled meat, fish or chicken and a salad. For dessert, order raspberries or enjoy a bite of dessert from a dining companion just for a taste. Enjoy a glass of red wine if you are on phase two or phase three of the plan. The South Beach Diet teaches you how to eliminate the craving for bread and other carbohydrates and how to make the right choices from the menu to meet your weight loss goals.
Mexican and Southwestern Restaurants
Mexican or southwestern cuisine offers a variety of low-carbohydrate options. Ceviche, or seafood marinated in citrus juice, is a good appetizer. Enchiladas are not a good choice for the main course because they are softened tortillas filled with meat and sauce. Tacos are fine because you can simply eat the meat and vegetables and leave the fried corn tortilla shell on the plate. Mexican restaurants serve rice and beans with most entrees. Ask the server to omit the rice from your plate. Beans are fine. Fried tortilla chips with salsa are not appropriate for this diet, but you can enjoy a side dish of guacamole without the chips. Any salad is fine, too. Another sensible choice is fajitas (without tortillas) since they are grilled meat and vegetables.
Chinese Restaurants
Chinese food is good for the South Beach Diet if you skip the rice, noodles, oriental pancakes, dim sum and egg rolls. Stir fry dishes usually have sauce made from cornstarch or flour, so ask the restaurant for a simple stir fry without sauce. If this is not possible, a stir fry dish is still better than anything fried because the amount of sugar in the sauce will probably not be enough to raise insulin levels. Avoid the deep fried dishes for obvious reasons like the thick, sweetened batter. For soup, stick with clear broths without won-tons or dumplings, and try egg drop soup instead of sweet and sour soup. Read the menu carefully and avoid anything with bean paste, barbecued meat or red-cooked pork or chicken, which has a thick and syrupy broth poured over the meat. Do not eat the fortune cookie--just read it, laugh with your friends, and give the cookie to someone else.
Italian Restaurants
Start with a fresh green salad topped with your favorite low-carbohydrate salad dressing. Avoid pasta dishes with high carbohydrates and breaded dishes like veal parmesan. Instead, order the the antipasto platter, which usually comes with an assortment of Italian cured meats, fresh cheeses, herbs, and marinated vegetables. Another good choice is a seafood dish, such as calamari (not fried) or steamed clams. Substitute vegetables for pasta and order grilled beef or roasted chicken for the main course. If you order pizza, get it with all the toppings that you love, and eat the toppings, but not the crust. Avoid the garlic bread and bread sticks.
American Restaurants
Do not eat the bread, rolls or crackers provided at your table. Start with an appetizer like shrimp cocktail or steamed clams. Order a big salad with your favorite dressing and order the steak, lamb, pork chops, chicken breast or seafood entree. Make sure that the main course is not battered and fried; ordered it grilled instead. Do not order a loaded baked potato with your meal and avoid the pasta, rice or starchy vegetables. Do not order sugary desserts, sweet wines or liquors.
Fast Food Restaurants
Avoid the hamburger bun, breaded and deep-fried chicken or fish fillets, French fries, and potato chips. Start with a salad and your favorite dressing, but order the hamburger just the way you like it--single meat or double-meat--with cheese, bacon or guacamole, and the traditional hamburger fixings like tomato, lettuce, onion or pickles. For condiments, do not have ketchup with the hamburger because it has sugar. Mustard and mayonnaise are better choices. Instead of a bun, ask for lettuce and put your hamburger on top of it--you won't miss the bun if you try this trick.
References
"Staying Power: Maintaining Your Low-Carb Weight Loss for Good"; Michael R. Eades, M.D.; 2005
"The Four Corners Diet: The Healthy Low-Carb Way of Eating for a Lifetime"; Jack Goldberg, PhD; 2004
"Living Low-Carb: The Complete Guide to Long-Term Low-Carb Dieting"; Fran McCullough; 2000
Writer Bio
Based in Seattle, Greg Van Pelt has been writing technical documentation since 1997. His work has appeared in product documentation for various enterprise software companies from the Fortune 500. Mr. Van Pelt holds a Bachelor of Science in professional writing from the University of Houston.
Photo Credits
Stockbyte/Stockbyte/Getty Images