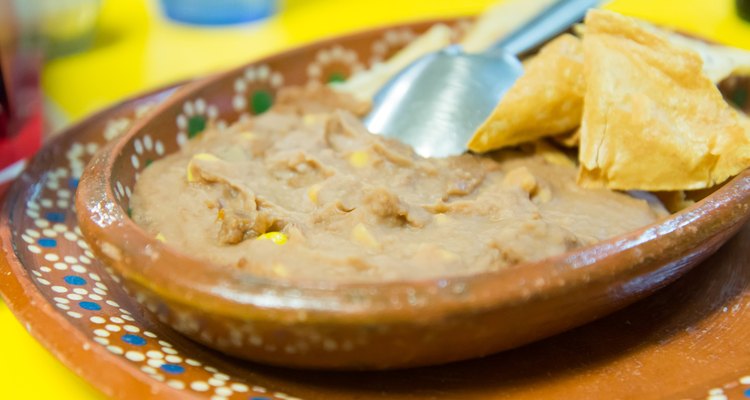 Esdelval/iStock/Getty Images
Zantigo is a restaurant chain serving Mexican cuisine, found throughout the Minneapolis-St. Paul area. It offers a simple menu that focuses on common Mexican fair -- tacos, burritos, quesadillas, enchiladas and tostadas. If you plan to eat there, you'll want to plan ahead so you can make smart choices and avoid eating too many calories.
For the Calorie Watchers
If you're currently on a lower calorie meal plan, build a meal from the lowest calorie items. Zantigo tacos are lower in calories than the other items on the menu, according to "The Healthy Eater's Guide to Family and Chain Restaurants" by Hope Warshaw. One beef or chicken taco with cheese and chili sauce contains 180 calories, 10 grams of protein, 13 grams of carbohydrates and 12 grams of fat. Have the tacos without cheese, and you'll save 50 calories per taco.
Middle of the Road
If you want to have a moderate number of calories, the enchilada or Zantigo's own creation -- the Chilito -- are likely up your alley. The enchiladas come in chicken, pork, ground beef, green chili, and cheese and onion. The nutrition content varies, depending on which you choose but hovers around 300 calories, 18 grams of protein, 24 grams of carbohydrates and 13 grams of fat, according to The Healthy Eater's Guide. The Chilito has nearly identical nutrition content.
For the Splurgers
If you're looking to splurge, try the quesadillas, tostadas or burritos. The nutrition information depends upon your choice of meat and what you fill your dish with. Choose chicken if you're looking to cut some calories. If you fill any of these items with the typical fixings of beans, rice, sour cream and cheese, you'll end up with about 500 to 650 calories, 40 to 50 carbs, 25 to 40 grams of protein and 14 to 20 grams of fat.
Slimming Down the Gut Busters
Items such as the taco salad and nachos deluxe have more than 800 calories. For this reason, it's best to order these as a shared meal instead of as your main dish. You can easily cut down on calories by sharing either of these dishes with one or two other people. The same is true for the platters and the high calorie sides such as the cheese fries. Adjust your portion size to suit the number of calories you've set aside for dining out.
References
The Healthy Eater's Guide to Family and Chain Restaurants: What to Eat in over 100 Restaurants Chains Across America; Hope Warshaw
Writer Bio
Barbara Froek is a dietitian and fitness trainer who holds a Bachelor of exercise and nutrition sciences as well as a Master of dietetics, food and nutrition. She has served as a contributing writer for various diet and fitness magazines including "Flex," "Muscular Development" and "Muscle & Fitness Hers."
Photo Credits
Esdelval/iStock/Getty Images