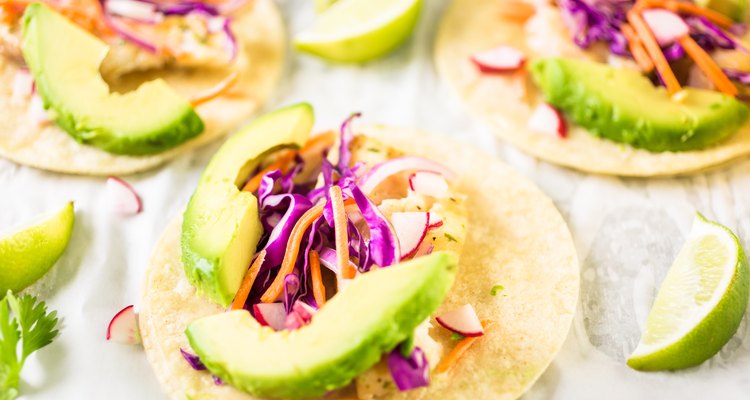 arinahabich/iStock/GettyImages
Easy Nutritious Meals, Salad Included
The healthiest dinners include poultry, fish or beans as the main focus of the meal, according to the American Heart Association. These high-protein choices contain far less saturated fat and cholesterol than red meat. A daily green salad provides a simple side dish for each dinner idea here, and with so many different greens to choose from, like kale, arugula, romaine and spinach, you'll have plenty of variety. A study from the Journal of the American Dietetic Association in 2006 showed that people who eat salad every day had greater intakes of vitamins C and E, folic acid and other healthy plant nutrients than those who didn't eat as much salad.
1. Fish Tacos
Salmon, cod, snapper or tilapia all work well in fish tacos. They are firm enough to hold their shape as you cut them into chunks and saute them in a little oil. And because the fish is cut into bite-size pieces, it cooks very quickly. Serve the fish in tortillas you have warmed in the oven and fill the tacos with shredded red or green cabbage with a topping made from plain yogurt and salsa. Add orange segments and radish slices to your green salad.
2. Minestrone
Few dinners can be simpler and more healthy than minestrone soup that cooks in just one pot. After sauteing chopped onions in a large pot, empty a can of cannelloni or kidney beans, a package of frozen spinach, a can of diced tomatoes and a few sliced carrots, and let the mixture simmer away until the carrots are cooked. Serve with rustic, whole-grain bread to round out the meal.
3. Chicken Chili
In less than 30 minutes, you can have a one-pot meal on the table with white chicken chili. Cook some diced onion and jalapeno pepper in a little oil, and then add sliced skinless chicken breast pieces. Add garlic and spices like cumin, and then add great northern or cannellini beans, plus corn kernels and chicken broth. Toss some sliced cabbage or pickled beets into your side salad for a zesty contrast to the creamy chili.
4. Sauteed Fish
Dredging fish in flour before cooking it in a large frying pan gives it a crispy coating that pleases both children and adults. Choose any firm fish, such as cod, snapper, tilapia or haddock. If you have frozen fish, leave it in the refrigerator overnight to thaw. For a simple and healthy salad, buy prepared coleslaw that comes with its own dressing. And to add heartiness to the meal, serve either homemade sweet potato fries or canned baked beans.
References
Writer Bio
Susan Lundman began writing about her love of cooking, ingredient choices, menu planning and healthy eating after working for 20 years on children's issues at a nonprofit organization. She has written about food online professionally for ten years on numerous websites, and has provided family and friends with homemade recipes and stories about culinary adventures. Lundman received her M.A. from Stanford University.