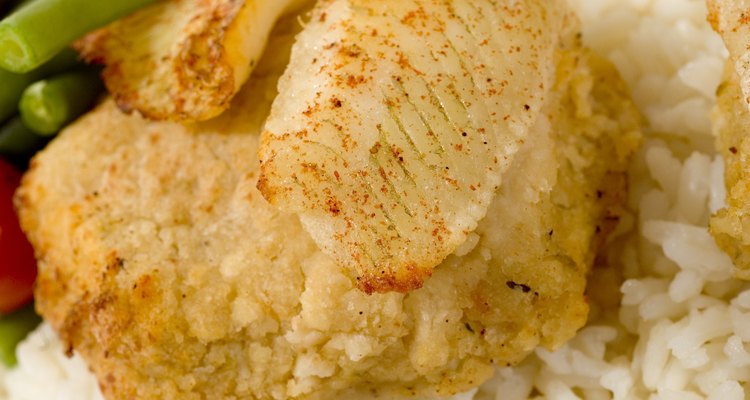 Robert Lerich/Hemera/Getty Images
Tilapia is a mild-flavored fish that combines well with other ingredients to produce a tasty main dish for dinner or a weekend lunch or brunch. Simple to prepare, stuffed tilapia filets bake in about 20 minutes, which gives you time to steam vegetables or prepare a green salad to accompany them. Tilapia is low in calories, at 93 per 4-oz. serving of the cooked fish, and packs 21 g of protein in that same serving.
Preheat your oven to 400 degrees Fahrenheit.
Mince one small onion and one rib of celery.
Melt 4 tbsp. of butter in a frying pan and sauté the onion and celery until they are soft.
Remove the frying pan from the heat and add 1/4 cup of parsley, 1/2 cup of bread crumbs, one can of drained and flaked crab meat, 1 tbsp. of lemon juice and 1/8 tbsp. of cayenne pepper. Stir to combine the ingredients.
Spread the mixture over the tilapia filets and roll them. Use toothpicks to secure them, if necessary.
Put the tilapia filets into a 9-by-13-inch greased baking dish, seam side down.
Drizzle melted butter over the filets and sprinkle them with paprika.
Bake the tilapia filets for 20 to 25 minutes, or until you can flake them using a fork.
References
Writer Bio
Margaret Morris has a Bachelor of Arts in English with a concentration in creative writing from the University of Pittsburgh. She also holds a celebrant certificate from the Celebrant Foundation and Institute. Morris writes for various websites and private clients.
Photo Credits
Robert Lerich/Hemera/Getty Images