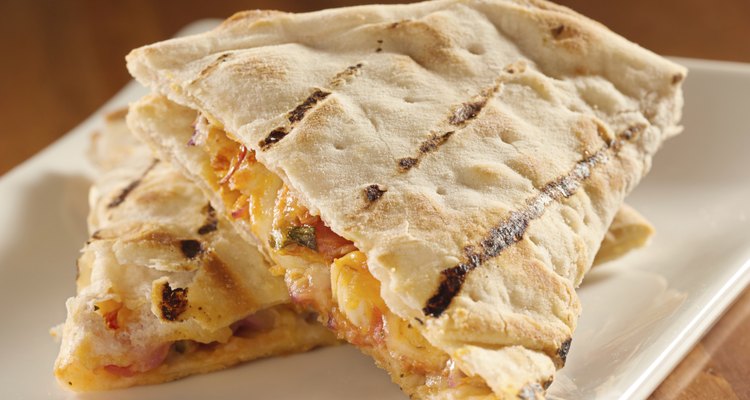 rez-art/iStock/Getty Images
Taco Bell's menu offers three different quesadillas, including the chicken quesadillas. This menu item is loaded with grilled chicken, cheddar cheese, pepper jack cheese, mozzarella cheese and jalapeno sauce.
Total Calories
The chicken quesadilla contains 520 calories. This menu option also has 28 g of total fat and 12 g of saturated fat, according to Taco Bell's website.
Daily Value
The Taco Bell chicken quesadilla provides 26 percent of your daily recommended calories. The chicken quesadilla also provides 43 percent of your total fat and 60 percent of your saturated fat. According to MayoClinic.com, any daily value over 20 percent is considered "high," so this item is considered high in calories, fat and saturated fat.
Lower Calorie Options
For a cheesy meal, Taco Bell's Cheese Roll-Up only provides 200 calories. If you're in the mood for something with chicken, the 170-calorie Fresco Ranchero Chicken Soft Taco is a good alternative.
References
Writer Bio
Richard Kalinowski began writing professionally in 2006. He also works as a website programmer and graphic designer for several clients. Kalinowski holds a Master of Fine Arts from Goddard College and a Bachelor of Science in education from the University of Wisconsin-Whitewater.
Photo Credits
rez-art/iStock/Getty Images