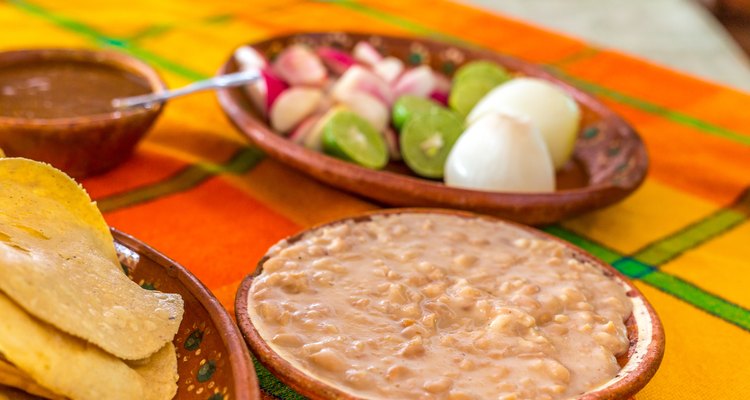 Alexcrab/iStock/Getty Images
According to the U.S. Department of Agriculture, 1 cup of most canned refried beans has 237 calories. However, many restaurants add cheese and other fattening ingredients to their refried beans that add calories as well.
Calories
The number of calories in a certain restaurant's version of refried beans will depend on their preparation methods. According to Calorie King, On the Border's side of refried beans with cheese has 230 calories. If you go to Chevys Fresh Mex, their side of refried beans has 280 calories.
Calories from Fat
According to MedlinePlus, every gram of fat contains 9 calories. On the Border's refried beans with cheese have 23 g of fat, accounting for 217 calories. The refried beans from Chevys Fresh Mex have 14 g of fat for 136 calories from fat.
Calories from Carbohydrates
By the same token, every gram of carbohydrates has 4 calories. Therefore, the refried beans from On the Border have 32 calories from their 8 g of carbs; the beans from Chevys Fresh Mex have 112 calories from 28 g of carbs.
References
Writer Bio
Amanda White has been a freelance ghostwriter since 2003, specializing in writing about medical issues. White has a Bachelor of Science in engineering from The George Washington University with a focus on biomedical engineering.
Photo Credits
Alexcrab/iStock/Getty Images