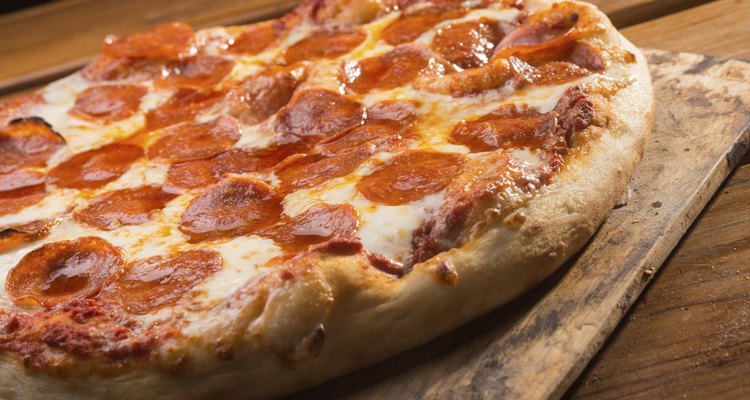 MarquezBlake/iStock/Getty Images
Whether you're looking for a quick lunch to eat on the go or are planning the menu for a movie night with friends, pizza is often the answer. Although you can top your slice with a nearly endless list of ingredients, it's tough to beat the classic combination of pepperoni and cheese. However, a single slice of pepperoni pizza is high in calories, so it's best to eat this treat sparingly.
Calories in Pepperoni Pizza
Depending on the style of the crust and the restaurant from which it came, a single slice of pepperoni pizza typically has between 300 and 350 calories, according to the USDA National Nutrient Database. At Pizza Hut, for example, a slice from a hand-tossed, 14-inch pepperoni pizza has 320 calories. With a pan crust, the same type of pizza from the same restaurant has 329 calories per slice. A slice of a 14-inch pepperoni pizza with a hand-tossed crust from Domino's has 308 calories, while the same size of Domino's pizza on a deep-dish crust has 348 calories.
Writer Bio
Toronto-based journalist William McCoy has been writing since 1997, specializing in topics such as sports, nutrition and health. He serves as the Studio's sports and recreation section expert. McCoy is a journalism graduate of Ryerson University.
Photo Credits
MarquezBlake/iStock/Getty Images