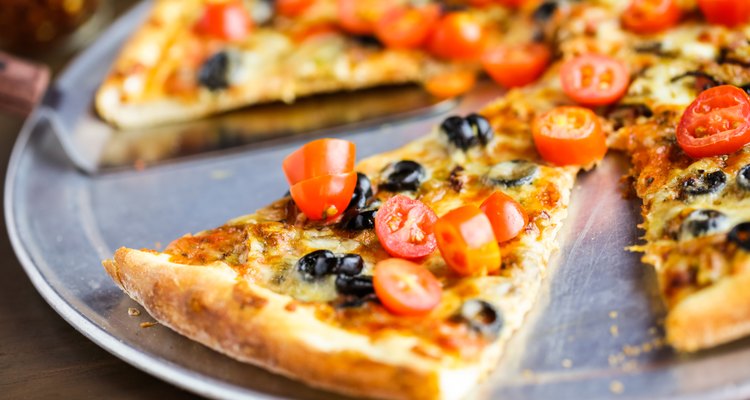 arinahabich/iStock/Getty Images
The original Ledo Pizza is a restaurant that has been serving pizza to folks in Adelphi, Maryland since 1955. Known for its square pizza and thick slices of pepperoni, Ledo has since become a franchise with locations all over the east coast including Rehoboth Beach, Delaware; Washington DC; Tampa, Florida; Raleigh, North Carolina and dozens of locations in Maryland and Virginia. Today, Ledo serves salads, subs, calzones and more.
About Ledo Pizza
You can get two types of pizza at Ledo Pizza: original and white, which comes without sauce. Pizza's are available in three servings sizes including a small personal pizza, medium single-tray pizza and large two-tray pizza. You can add more than a dozen different toppings to your pie, ranging from healthy veggies to ham, meatballs and bacon.
Nutrition Data
A single slice of a Ledo original pizza has 111 to 230 calories, 7 to 18 g of fat, about 30 mg of cholesterol, 150 to 420 mg of sodium, 7 to 10 g of carbohydrates, up to 1 g of fiber and sugars, and between 4.5 and 9 g of protein. A slice of white pizza with and without added toppings has between 140 and 170 calories, 11 to 14 g of fat, about 1 to15 mg of cholesterol, 135 to 180 mg of sodium, 7 to 8 g of carbohydrates, 0 g of fiber and sugars, and between 3 to 4 g of protein.
Toppings
While Ledo Pizza does not provide nutrition data for its toppings, you can easily research this information using a resource such as the USDA National Nutrient Database. A half a cup of cooked artichoke hearts has 45 calories, less than a gram of fat, about 10 g of carbs and more than 7 g of fiber. Five slices of bacon has about 220 calories, more than 17 g of fat and nearly 15 g of protein. Five canned olives have about 35 calories and less than 3 g of fat.
Popular Pizza Items
The Buffalo Pizza, served with buffalo sauce, provolone cheese and roasted chicken, is one of Ledo's more popular specialty pizzas. Considering that a half a cup of provolone is 463 calories, according to the USDA's National Nutrient Database, roasted chicken is about 96 calories and buffalo sauce is about 15 calories per serving, a slice of this specialty pie is estimated at no fewer than 230 calories. The nutrition data is similar for other popular pies such as the Italian white pizza with herbs, provolone and a variety of other cheeses. A slice from this pie is estimated at no fewer than 170 calories.
Nutrients
When it comes to nutrients, pizza offers some promise. According to an article published in the Seattle Post-Intelligencer by Claudia Zapata, "Every pizza starts with great health potential," by using nutritious tomato sauce, protein and calcium rich cheese, and your choice of healthy vegetables. Marinara sauce is rich in vitamin C and the antioxidant lycopene. Ledo's pies boast between 2 and 8 percent of the recommended daily value of vitamin A, up to 15 percent of the RDA of calcium and 4 percent of the RDA of iron.
References
Resources
Writer Bio
Shannon Marks started her journalism career in 1994. She was a reporter at the "Beachcomber" in Rehoboth Beach, Del., and contributed to "Philadelphia Weekly." Marks also served as a research editor, reporter and contributing writer at lifestyle, travel and entertainment magazines in New York City. She holds a Bachelor of Arts in literature from Temple University.
Photo Credits
arinahabich/iStock/Getty Images