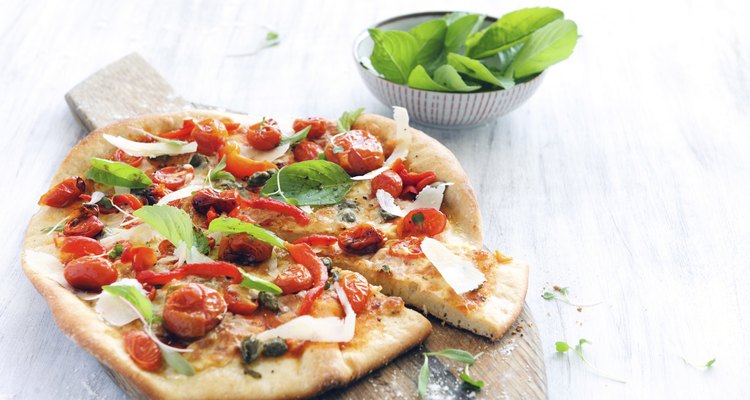 Jill Chen/iStock/Getty Images
Start to Finish: 2 hours Servings: 4 Difficulty Level: Intermediate
Flatbread is an ideal base for home-baked thin-crust pizzas. Skip the sauce when making flatbread pizza, because it can make the thin crusts soggy. Use only a few toppings -- two to four -- including a combination of fresh seasonal ingredients that won't weigh down the light, crisp flatbread beneath them.
Ingredients
Crust 1 cup warm water 1/2 teaspoon granulated sugar 1/4-ounce packet or 2 1/4 teaspoons dry active yeast 2 cups unbleached flour 1 teaspoon salt 2 tablespoons olive oil, plus extra for brushing * 2 teaspoons fresh oregano, optional
Toppings 1 to 2 cups sliced bell peppers or other vegetables 2 tablespoons olive oil 1 cup mozzarella or other cheese 1 cup Italian sausage or other meat * Fresh oregano or other herbs, to taste
Prepare Flatbread Dough
Measure 1 cup warm water -- 100 to 110 degrees Fahrenheit -- in a measuring glass. Add the sugar, stirring the water with a spoon to dissolve the sugar.
Add yeast to the water. Set the measuring cup aside until the yeast is frothy, about 10 minutes.
Place the dough hook attachment on an electric stand mixer or hand mixer. Pour the flour and salt in a mixing bowl. Set the mixer to the lowest speed setting to incorporate the two ingredients. Leave the mixer on as you prepare the remaining ingredients.
Add minced fresh oregano to make an herbed flatbread crust, if desired.
Pour the yeast mixture and olive oil into the mixing bowl. Continue mixing the ingredients on the lowest speed until they all come together in an uneven lump at the center of the bowl.
Increase the speed to the medium setting, mixing the dough until the lump of dough has a smooth, even texture, approximately 5 to 10 minutes. Turn off the mixer.
Apply a light coat of nonstick cooking spray or olive oil to the inside of a bowl. Transfer the dough to the bowl. Cover the bowl with plastic wrap. Place it in a dark, cool environment -- such as an oven or microwave that is not in use -- for one hour.
Remove the plastic wrap. Punch down the dough gently with your fists. Let the dough rest about five minutes.
Shape the dough into one or more rectangles or ovals that are about 1/4 to 1/2 inch thick. You should be able to make one or two 12-inch crusts, depending on thickness.
Brush a baking sheet with olive oil. Place the shaped dough on the baking sheet.
Top and Cook the Crust
Spread thinly sliced bell peppers or other vegetables in a single layer on a baking sheet. Drizzle the veggies with olive oil.
Place the baking sheet in the preheated oven, roasting the vegetables until they are tender, about 15 minutes. Leave the oven on after you remove the pan of vegetables.
Par-bake the flatbread crust without toppings for about 5 minutes. Par-baking helps crisp the crust, which is vital for thin pizza.
Sprinkle shredded mozzarella or another grated, shredded or crumbled cheese on the par-baked crust. Sprinkle thin slices of cooked Italian sausage or other pre-cooked meat on top of the cheese. Add the roasted vegetables to the pizza. Season the flatbread with fresh oregano or other herbs, if desired.
Cook the flatbread pizza in a 450 degree F oven until the crust is golden brown, approximately 10 minutes.
Cut larger flatbread pizzas into easy-to-handle squares. Serve pizza immediately while it's still hot.
Topping Tips
Pre-cooking meat toppings is required to ensure food safety; pre-cooking vegetable toppings is optional, depending on the textures you prefer. Fresh uncooked veggie toppings tend to become dry while pizza cooks, while roasted veggies stay moist and tender.
Mushrooms, fresh or caramelized onions, tomatoes, zucchini, squash, eggplant and artichoke hearts are other suitable pizza toppings. Cut vegetables into thin slices or small chunks to avoid overloading the thin crust.
Add leafy vegetables, such as torn spinach and arugula, after the pizza cooks.
You can substitute an additional vegetable topping if you prepare a cheese-less or vegetarian flatbread.
Parmesan, Romano, Asiago, provolone, ricotta, goat cheese, cheddar and Monterey Jack are ideal cheeses for flatbread pizza.
Cut meat toppings into thin slices or crumble them to avoid overloading the flatbread. Use cooked pepperoni, prosciutto, chicken, bacon, pancetta, ham and many types of sausage.
Basil, rosemary and thyme are flavorful herbs for flatbread pizza.
Substitution and Serving Tips
Substitute store-bought flatbread for homemade dough to simplify the pizza-making process. Tex-Mex tortillas yield ultra-thin-crust pizza. Indian naan is a little thicker and chewier than flour tortillas. Focaccia bread is an Italian flatbread ideal for pizzas featuring traditional Italian-inspired ingredients.
Substitute 1 teaspoon of dried herbs for fresh herbs in flatbread dough, if desired. You can also use basil, rosemary or thyme.
Substitute 1 cup of whole wheat flour for half of the unbleached flour to make a whole wheat crust.
Serve square slices of flatbread pizza as an appetizer.
Host a pizza party with bowls of pre-cooked toppings and par-baked crusts. Allow guests to top their own single-serving flatbreads.
References
Writer Bio
Lamar Grey has been writing about cooking and food culture since 2010. He has ghostwritten eight cookbooks. Grey entered the culinary industry in 2003 as a prep cook in a full-service restaurant. He subsequently served as a baker and head cook on three award-winning kitchen staffs.
Photo Credits
Jill Chen/iStock/Getty Images