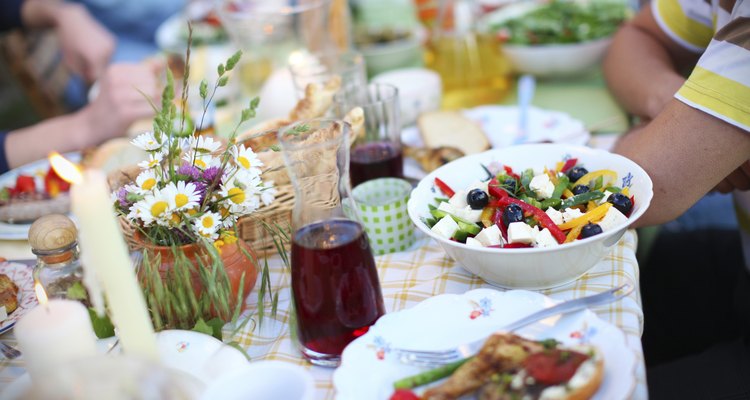 sugar0607/iStock/Getty Images
Owned and operated by Bravo Brio Restaurant Group, Brio Tuscan Grille serves Italian-style dishes in a fine casual dining setting. Brio Tuscan Grille features a variety of ingredients and cooking styles to produce a diverse menu. Choosing certain dishes and entrees can improve the nutritional information to meet your individual requirements.
Types
Brio Tuscan Grille's food choices are split into multiple menus including a menu for lunch, dinner, dessert and a children's menu. A brunch menu is also available on Saturdays and Sundays. Each menu includes a selection of steaks, homemade pasta and flatbreads.
Features
Along with preparing homemade pasta, other menu options are made with fresh ingredients with some of the most common ingredients including chicken, cheese and cream sauces. As the features of the menu options change with ingredients and cooking methods, the overall nutritional content from calories, fat, carbohydrates and protein also changes.
Size
Entrees at Brio Tuscan Grille can range from a few hundred calories to over 1,000. For example, the wood-grilled salmon salad contains 294 total calories with 14 g of fat, 12 g of carbohydrates and 33 g of protein while the chicken pasta fra diavolo contains 1,103 total calories with 52 g of fat, 115 g of carbohydrates and 45 g of protein. Two menu options with around 100 calories per serving include the multigrain baguette with 110 calories and the crab cake, 160 calories.
Benefits
While some of the menu options may contain significant amounts of calories, fat and carbohydrates, they also contain various nutrients, vitamins and minerals. The crab cakes, for example, contain a small amount of dietary fiber along with 20 percent of the daily recommended intake for calcium and six percent for vitamin A and iron. The crab cakes, along with other fish entrees, contain significant amounts of healthy fats such as monounsaturated fat and polyunsaturated fat.
Considerations
You have several options while ordering at Brio Tuscan Grille to adjust the overall nutritional content of your meal. Choose meals with a smaller serving size and order any sauces, creams or dressings on the side. Avoid side items and appetizers that can add significant amounts of calories, fat or carbohydrates.
References
Writer Bio
Based in Nebraska, Jeremy Hoefs began writing fitness, nutrition, outdoor and hunting articles in 2006. His articles have been published in "Star City Sports," "Hunting Fitness Magazine" and RutWear field journals, as well as on the Western Whitetail website. Hoefs graduated with a Bachelor of Science in exercise science from Nebraska Wesleyan University.
Photo Credits
sugar0607/iStock/Getty Images