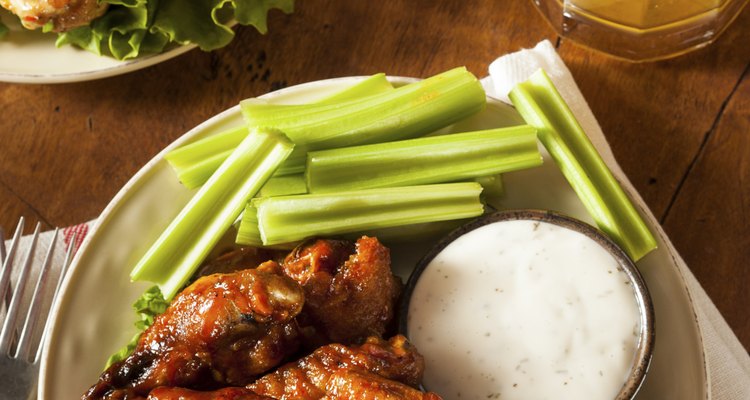 bhofack2/iStock/Getty Images
Wild Wing Cafe started in Hilton Head, South Carolina, with a young man's desire for hot wings and a bucket of cold beer. After starting the initial Wild Wing Cafe, the taste for the hot wings grew into restaurants in several states. While the menu at the Wild Wing Cafe revolves around hot wings, the menu also features traditional favorites such as sandwiches, burgers and appetizers. Every menu choice follows a detailed recipe that results in specific nutrition information.
Types
Wild Wing Cafe offers more than 30 flavors of sauce that can be added to the buffalo wings, boneless nuggets or ribs. Other categories on the menu include Wild Things, The Spud Zone, Fiesta Fiesta and Saucy Favorites. Wild Things include traditional appetizers such as spinach dip, onion rings and mozzarella sticks. The Spud Zone includes fries and chips, while Fiesta Fiesta includes Mexican-style dishes such as nachos and queso dip. Entrees include a variety of salads, ribs, sandwiches, wraps and burgers.
Size
With the wide variety of menu options, nutrition information at the Wild Wing Cafe is dependent on the ingredients, serving size and cooking method. For example, the big buffalo salad with slayer sauce contains 645 calories per salad with 44 g of total fat, 5 g of carbohydrates and 12 g of protein. The bacon and bleu cheese ingredients add significant fat calories to the big buffalo salad. The potato wedges basket contains 560 calories per 2 cups serving with 28 g of total fat, 79 g of total carbohydrates and 9 g of protein, according to the My Fitness Pal website.
Features
Wild Wing Cafe prepares most of the menu choices with fresh ingredients without using pre-packaged processed food. For example, the hamburgers are formed into patties by hand using Grade A lean ground beef and the chicken fingers are made from fresh tenderloins dipped in homemade batter. The bleu cheese and ranch dipping sauces also are homemade.
Identification
Ordering at Wild Wing Cafe involves a process of choosing sauces, cheese and other toppings. The decisions made during these steps can significantly change the amount of calories, fat, carbohydrates and protein. The first step starts by choosing the sandwich or amount of wings followed by 33 flavors of sauce. Next, you choose the cheese such as Monterey jack, cheddar or mozzarella and finish with additional toppings such as salsa, fire roasted bell peppers or guacamole.
Considerations
To reduce the amount of calories at the Wild Wing Cafe start by avoiding fatty sandwiches or entrees such as the ribs. Avoiding additional sauces such as bleu cheese or ranch dipping sauces can also significantly reduce calories and fat. You can also save calories by ordering the entree without cheese and add salsa and fire roasted bell peppers. The Wild Wing Cafe also offers a value menu with several meals priced under $10.
References
Resources
Writer Bio
Based in Nebraska, Jeremy Hoefs began writing fitness, nutrition, outdoor and hunting articles in 2006. His articles have been published in "Star City Sports," "Hunting Fitness Magazine" and RutWear field journals, as well as on the Western Whitetail website. Hoefs graduated with a Bachelor of Science in exercise science from Nebraska Wesleyan University.
Photo Credits
bhofack2/iStock/Getty Images