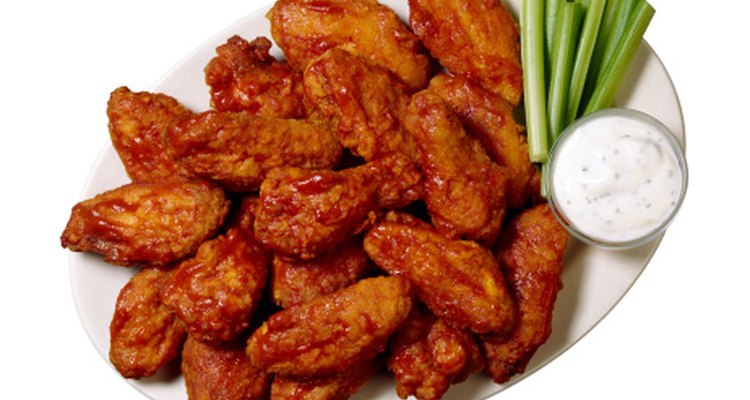 Brand X Pictures/Brand X Pictures/Getty Images
KFC sells three different types of hot wings that will add extra fire to your meal. Regular, honey barbecue and buffallo wings are breaded in KFC seasoning and deep fried. Wings are also available in a boneless variety.
Calories
According to the KFC website, one regular KFC Hot Wing contains 70 calories. A KFC Fiery Buffalo Wing has 80 calories. And a KFC Honey Barbecue Hot Wing has the most at 90 calories per wing.
Carbohydrates, Protein and Fat
All three wing varieties include 20 g of carbohydrates, 4 g of protein and 5 g of total fat per wing. Your diet should include no more than 300 g of carbohydrates, 50 g of protein and 65 g of total fat per day, according to the Mayo Clinic. Most people don't eat just one wing at a time.
Considerations
Pair wings with healthy side dishes. KFC green beans contain 20 calories per serving, corn on the cob contains 140 calories per 5.5 inch corn cob and the three-bean-salad only has 70 calories. Opt for sweet corn for a sodium-free side dish.
References
Writer Bio
Julie Hampton has worked as a professional freelance writer since 1999 for various newspapers and websites including "The Florida Sun" and "Pensacola News Journal." She served in the U.S. Army as a combat medic and nurse for over six years and recently worked as the Community Relations Director for a health center. Hampton studied journalism and communications at the University of West Florida.
Photo Credits
Brand X Pictures/Brand X Pictures/Getty Images