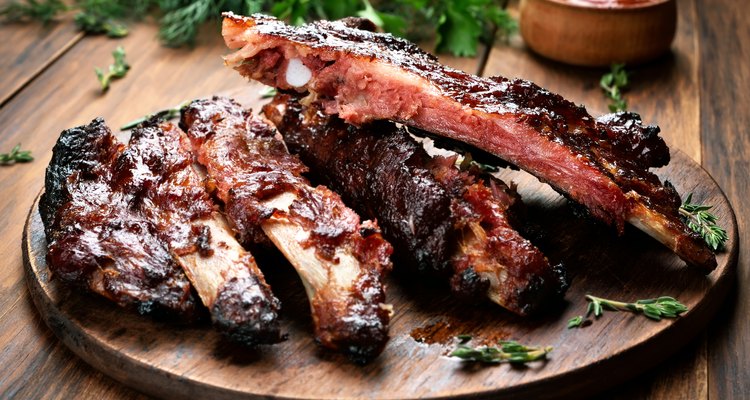 voltan1/iStock/GettyImages
Whether you prepare them in the kitchen or out on the grill, spareribs are delicious with a wide range of side dishes. Braise or boil them with vegetables for a winter dinner; grill them with a dry rub or sauce for a barbecue supper; or use Asian-inspired seasonings for an hors d'oeuvres buffet. Cut large or small, sauced or dry-rubbed, spareribs can lead your menu planning in many delicious directions.
Hearty Boiled Sparerib Dinners
Throughout Germany and Central Europe, spareribs are frequently braised or boiled with cabbage, often in the form of sauerkraut. Potatoes, boiled or mashed, are a classic accompaniment. Add lightly buttered carrots, beets or parsnips for the feel of an old-fashioned German farm dinner. Rye bread, especially with caraway seeds, lets you enjoy all the good boiled-dinner juices that gather on your plate. In Italy, savoy cabbage replaces sauerkraut, and Northern Italian recipes pair spareribs with polenta, with or without tomato sauce. Add grilled eggplant, zucchini or peppers to complete the meal.
Latin Barbacoa
Make barbecued spareribs the center of a Mexican or Latin cookout, with flavors that include citrus, garlic and peppers. Include corn, either grilled on the cob with the ribs or baked into muffins. Black bean, tomato, cucumber, melon and mango salads all balance the smoky, rich pungency of Latin-seasoned ribs.
Classic American Barbecue
Even very young diners can recite the dishes that make an American barbecue delicious -- potato salad, cole slaw and simply dressed summer vegetables of all kinds. Sweet-sauced ribs may lead to a substantial fruit-themed dessert, including strawberry shortcake or peach pie. Southern barbecue fare may feature creamy dressings and desserts, while Western menus may seem incomplete without garlic bread and an abundance of fresh herbs. In other regions, a barbecue is incomplete without baked beans, scalloped potatoes or macaroni salad.
Asian Buffet
Centuries of practice make Chinese barbecued spareribs delicious. Most often served as an appetizer to a larger meal, Chinese-style ribs can take the lead in a tasting buffet of finger-foods suitable for informal entertaining. Surround platters of ribs with fried wontons, steamed dumplings, satay skewers, tea-steamed shrimp, and nori-wrapped rice or noodles for an evening of Asian-themed grazing while meeting new neighbors or watching the big game.
References
Writer Bio
Janet Beal has written for various websites, covering a variety of topics, including gardening, home, child development and cultural issues. Her work has appeared on early childhood education and consumer education websites. She has a Bachelor of Arts in English from Harvard University and a Master of Science in early childhood education from the College of New Rochelle.