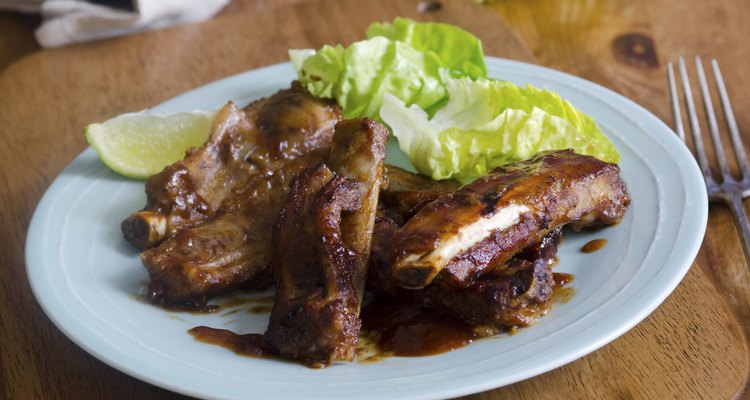 martinturzak/iStock/Getty Images
There are several marinades and dry rubs for beef ribs. Marinades are basically seasoned liquids that contain some sort of acidic ingredient such as wine, vinegar or citrus juice that tenderizes the meat. Dry rubs are a blend of dried herbs and spices that are rubbed on the ribs before cooking. You can ground the ingredients with a mortar, coffee grinder or a blender to make a powdered mixture.
Marinade
Make your marinade. Use a acidic ingredient as a base and add your favorite herbs and spices. For example, add 2 cups red wine, one chopped onion, two minced cloves garlic, 2 tbsp. chopped parsley and 2 tbsp. chopped thyme into a saucepan. Simmer for two minutes to release the flavors. Add salt and pepper to taste. Chill before using.
Place your beef ribs in a bowl or a dish that is large enough to accommodate the meat. Pour the chilled marinade on the meat. Coat the meat fully with the marinade. Marinate the beef ribs from a few hours to 24 hours in the refrigerator, turning the meat occasionally.
Remove from the refrigerator and bring to room temperature. Cook the ribs.
Dry Rub
Stir together the herbs and spices for your dry rub. For example, make barbecue dry rub, stirring together ¼ cup toasted and powdered cumin seed, ¼ cup brown sugar, ½ cup hot or sweet paprika powder, ¼ cup chilli powder, 2 tbsp. ground red pepper flakes, 1 tsp. ground mace, ¼ cup salt and ¼ cup cracked black peppercorns. Stir together. Store, covered, in a cool place for up to six weeks.
Rub the spice mixture into the ribs and refrigerate for up to two hours. You can add more dry rub onto the ribs and turn them occasionally during the refrigeration.
Remove from the refrigerator and bring to room temperature. Cook the ribs.
References
"Joy of Cooking"; Irma S. Rombauer, et al.; 1997
Tips
You can add 2 tbsp. olive oil to the dry rub to make it easier to rub it onto the ribs. This is called a paste instead of a dry rub.
Writer Bio
Maria Parepalo began writing professionally in 2006 and has published in medical journals as well as online. She graduated with a bachelor's degree in laboratory sciences from Helsinki Polytechnic in 2002 and is currently working on her doctoral degree in cell and molecular biology.
Photo Credits
martinturzak/iStock/Getty Images