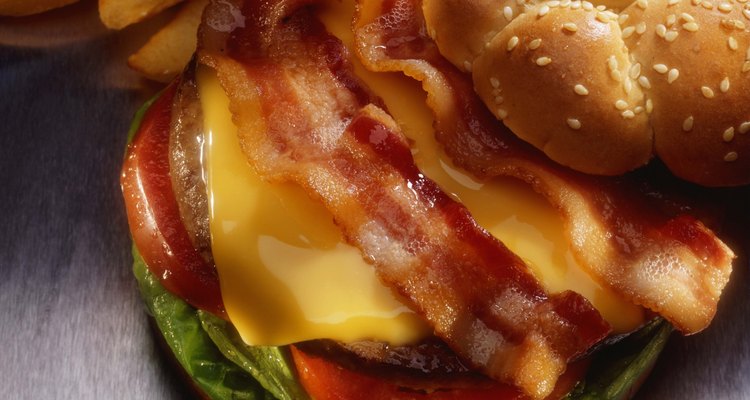 Jupiterimages/Stockbyte/Getty Images
Breaded hamburgers - or chicken fried hamburgers - are a unique spin on the traditional burger. While hamburgers are often grilled or pan-fried, coating them with a simple breading gives the option to deep fry, resulting in a juicy burger surrounded by a crisp, golden crust. Breaded hamburgers are easy to prepare and cook quickly, so you and your guests can enjoy delicious crisp-coated, flavorful burgers in just minutes.
Chicken-Fried Hamburgers
Step 1
Heat peanut or vegetable oil in a deep fryer or large pot to 375 degrees Fahrenheit.
Step 2
Form the ground meat into hamburger patties; you should be able to make at least 4 patties per pound. Add seasonings to the hamburgers if you would like. Salt and pepper, garlic salt, onion powder, cumin and cayenne pepper are common favorites. Flatten the hamburgers slightly.
Step 3
Whisk together four eggs and 1 1/2 cups of heavy cream for every 1 1/2 to 2 pounds of hamburger meat in a bowl. In a shallow dish add enough flour to coat the hamburger patties. Season the flour simply with salt and pepper, add a touch of sweet with paprika or add a touch of heat with cayenne pepper, if desired.
Step 4
Dredge the hamburger patties in the flour, shaking off any excess. Submerge the floured hamburger patties in the egg mixture and drain. Repeat this process 2 to 3 times, until your hamburger patties have thick coatings. The last step should be a final coating in flour.
Step 5
Carefully place two hamburger patties in the oil with a slotted spoon or lower them into the oil with a basket. Cook the burgers for approximately 4 minutes, flipping once, or until the coating turns golden brown. Remove the patties from the oil and drain on paper towels to remove the excess grease. Let the oil return to 375 degrees F and repeat with the remaining hamburger patties. Serve with your favorite accompaniments such as lettuce and tomato, cheese and bacon, ketchup and mustard.
References
The Joy of Cooking; Irma Rombauer, Marion Rombauer Becker and Ethan Becker
Tips
If you'd like to lighten up the calories but not lose the crunch you can also bake your hamburger patties on a rack in the oven for 20 to 25 minutes, flipping once.
Ground chuck has the best flavor for hamburgers as it has a higher fat content than lean beef that lends flavor and moisture while cooking.
Warnings
Ground meat should be cooked to an internal temperature of 160 degrees Fahrenheit to eliminate any foodborne pathogens that might be present.
Writer Bio
Christina Kalinowski is a writer from the Twin Cities who began her career in 2011. She contributes food and drink related articles to The Daily Meal. She holds a Master of Arts in sociology from Purdue University.
Photo Credits
Jupiterimages/Stockbyte/Getty Images