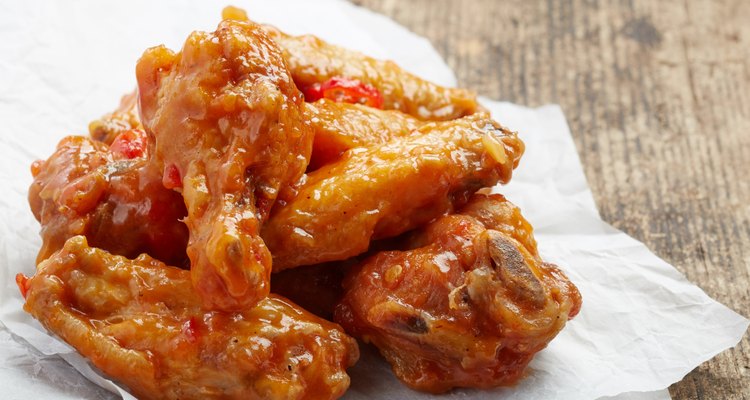 Magone/iStock/Getty Images
Founded in 1985 by two brothers in Dayton, Ohio, Fricker's was built with a motto of "A relatively full service restaurant and bar." This motto meshes with Fricker's variety of food and a fun atmosphere that combines sports and spirits. Fricker's nutrition guide varies according to the serving size, ingredients and cooking methods.
Types
Fricker's serves specialty and traditional American-style restaurant food including chicken wings, appetizers, sandwiches and salads. Appetizers include chips and salsa, nachos supreme, chili fries and mini corn dogs. Signature sandwiches include The Big FRICKIN Burger, Fricker's Chili Burger and Fricker's A-1-yon Burger. Other sandwich choices include traditional chicken sandwiches, BBQ sandwiches and fish sandwiches. Dinner options include ribs, chicken and pasta, steak and shrimp.
Features
The menu at Fricker's contains several options to personalize your food. More than 10 sauces, ranging from mild to hot, can be added to the chicken wings. Celery, ranch dressing, bleu cheese dressing or a side of wing sauce can be added to the chicken wings. The sandwiches can feature lettuce, tomato, mayonnaise, mustard, onion and pickles upon request.
Size
Caloric content in Fricker's food depends on the ingredients, side items, serving size and cooking methods. For example, the grilled chicken quesadilla is made with chunks of chicken with your choice of sauce, two tortillas and a side of ranch or bleu cheese dressing. One 8-piece serving of the quesadilla contains 850 calories, while the grilled chicken wrap made with only one tortilla contains 600 calories. One serving of the medium chicken wings contains 288 calories, with the majority of the calories from protein.
Nutrients
Most of the menu options will contain a balance of carbohydrates, fat and protein. Additional fat content can come from sauces and dressings, while carbohydrates can come from buns and breading. The medium "naked," or no breading, chicken wings, for example, contain 40 g of protein per serving along with 12.5 g of fat and only 3.5 g of carbohydrates. The grilled chicken wrap, however, contains 68 g of carbohydrates, 54 g of protein and 14 g of fat as a result of the tortilla, chicken, cheese and sauce.
Considerations
You have several menu choices to reduce overall caloric content or to reduce carbohydrates and fat. Ordering the sauces and dressings on the side can significantly reduce fat and calories, while ordering items from the "bunless" section on the menu can reduce the amount of carbohydrates.
References
Writer Bio
Based in Nebraska, Jeremy Hoefs began writing fitness, nutrition, outdoor and hunting articles in 2006. His articles have been published in "Star City Sports," "Hunting Fitness Magazine" and RutWear field journals, as well as on the Western Whitetail website. Hoefs graduated with a Bachelor of Science in exercise science from Nebraska Wesleyan University.
Photo Credits
Magone/iStock/Getty Images