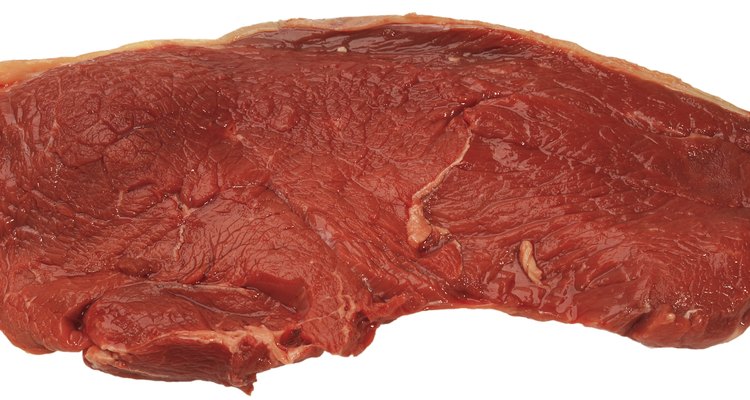 Stockbyte/Stockbyte/Getty Images
The term "Texas style" is wide open, just like the state itself. Even the type of steak that would qualify as "Texas style" is up for debate given the state's wide-ranging influences, from Mexico to the deep South. There are certain cuts, such sirloin and flank steak, that lend themselves to a marinated preparation due to the leanness of the cuts. Bold flavors are the key to a Texas-style steak, including generous use of freshly ground black pepper, aromatics and hot chile peppers. A little sweetness and acid are essential to a good Texas-style marinade, too.
Step 1
Remove the steak from its packaging and pat dry with paper towels to remove any excess blood. Cut away any excess fat from around the edges using a knife and a cutting board.
Step 2
Add seasonings and spices to a bowl. Texas-style spices can include salt, ground black pepper, cayenne pepper, onion powder, garlic powder, oregano, cilantro, adobo, epazote, chili powder, cumin, coriander and brown sugar. For a more Tex-Mex style marinade, add some chilies to the mix, such as chipotle, jalapeno or poblano. Mix well using a whisk.
Step 3
Add liquid to the bowl and mix well. Sauces and other flavorings to consider include Worcestershire sauce, steak sauce, hot sauce and citrus juices like lime or Ruby Red grapefruit. Add enough liquid to cover the steak when it is closed in a sealed container or resealable plastic bag. Liquids that you can use include water, beef broth, beer or cola. Use a ratio of 1/4 cup sauce to every 1 cup of liquid.
Step 4
Mix all ingredients well. Add the steak to the container or bag. Add the marinade and seal. Place the steak into the refrigerator and marinate for at least two hours and up to overnight. Rotate the steak a couple of times to ensure that it is fully marinated.
References
Cooking Texas Style: Tenth Anniversary Edition; Candy Wagner
Warnings
Do not reuse marinade. Discard after removing the steak to avoid ingesting any possible bacteria that may be present.
Writer Bio
Based in Virginia Beach, Mark S. Baker has been working in editorial for more than 20 years. He has served as a writer and editor for publications such as the "Houston Post," "Boca Raton News" and "Interactive Week," among others. Baker also has a culinary arts degree from Johnson & Wales University and has his own catering business.
Photo Credits
Stockbyte/Stockbyte/Getty Images