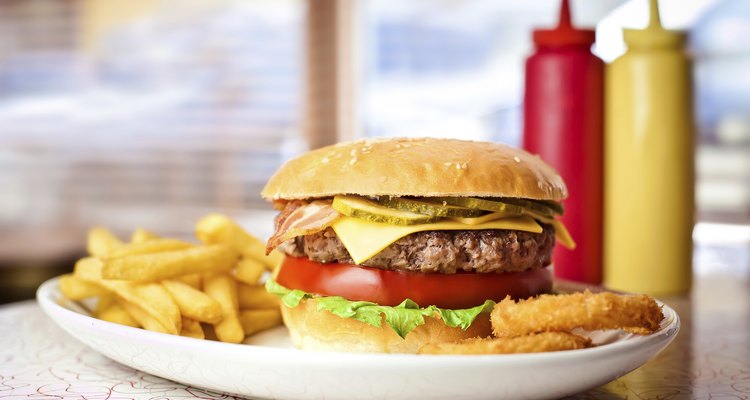 duha127/iStock/Getty Images
Despite its cherubic mascot and name, the Big Boy restaurant chain does offer food that is low in calories as well as high in nutrition. Some of the dishes, however, even those that seem like a healthy choice on the menu, are packed with calories and fat likely to lead you down that big boy road.
Big Boy Burger
The restaurant's namesake sandwich, which is a burger on a bun, is not one of the healthier choices, My Fitness Pal points out. The sandwich packs 600 calories, 95 mg of cholesterol, 26 g of fat and 790 mg of sodium. On the plus side, you do get 40 g of protein and 35 g of carbohydrates. Add cheese on your burger and you're adding more calories and fat.
Dinner Salad
The Big Boy dinner salad can add some bulk to your meal with only 44 calories, My Fitness Pal says -- as long as you hold the dressing. The plain salad also weighs in with 8 g of protein, 59 mg of sodium, 6 g of carbohydrates, along with 35 percent of your recommended daily intake of vitamins A and C, 8 percent of your calcium and 7 percent of your iron.
Health Smart Options
Opting for the Health Smart Chicken Breast Salad, or other choices from the Health Smart category, also keeps you low in calories, Diet Facts says. The chicken breast salad contains a grilled chicken breast on a bed of lettuce, tomato, celery, carrots and cucumber along with a fat-free Italian dressing. The dish has 285 calories, 27 g of protein, 26 g of carbohydrates and 5 g of fat. Other pluses are the ultra-high content of vitamins A and C, both above your recommended daily dose, and 14 percent of your calcium and 18 percent of your iron. Caveats include the 999 mg of sodium, the 68 mg of cholesterol and opting for reduced-calorie ranch dressing, rather than the fat-free Italian, which increases the total calorie count to 405.
Breakfast
Big Boy breakfast choices, when eaten a la carte rather than a la sausage, butter, syrup or cheese, can be some of the lower calorie choices on the menu, Diet Facts and My Fitness Pal note. Chow down on a plain adult order of French toast, made with egg bread, for 365 calories. Go for a Health Smart Egg Beater and cheese omelet, made with three eggs, and drop the calorie count to 322. Get rid of the cheese on the omelet and dip down to 283 calories. Beware of the multigrain hotcakes, however, as a serving of three hits you with 698 calories, not even including the condiments.
Warning
When choosing foods at any restaurant, base your decision of the food's components and how it's cooked, not on the name alone. A Big Boy case in point is its chicken stir fry. While the dish may sound healthy and includes lots of veggies, it's also loaded with 717 calories, more than a Big Boy burger. The stir fry also contains 68 mg of cholesterol, 749 mg of sodium and 8 g of fat. Protein weighs in at 35 g and carbohydrates at 128 g. Most stir fry dishes use oil and are smothered in sauce, both of which account for a lot of calories.
References
Photo Credits
duha127/iStock/Getty Images