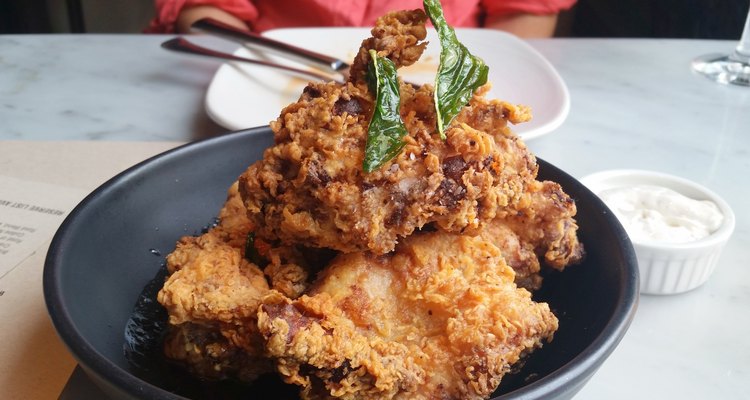 Eddie Hernandez/iStock/Getty Images
Bojangles' is a fast-food restaurant that specializes in fried chicken and buttermilk biscuits. According to the company website, Bojangles' began in 1977. The founders, Jack Fulk and Richard Thomas wanted to provide a quick service chain that made products from scratch. The menu consists of southern-style fried foods, baked biscuits and homemade gravies. The nutritional data for products from Bojangles' will depend on your selection and the combination of items.
Calories
The calories on menu items from Bojangles' range from 25 to 649 as of 2010, according to the company website. The lowest calories for a main dish are the leg portion of the Cajun Spiced Chicken. The highest calories are in the Steak Biscuit sandwich. On average, fried chicken has 310 calories or less. Sandwiches come in many varieties and are on the high-range for calories. The lowest calorie sandwich is the Grilled Filet at 235 per serving. Bojangles' menu offers side dishes, such as seasoned fries, that run from 25 to 344 calories. Green beans have the lowest calories of all the menu items.
Fat
Many of the products from Bojangles' are fried. This means they may have high percentages of fat. Chicken portion range from 16 to 25 gm per serving. The lowest fat is found in the leg portion. The highest percentage of fat is found in the biscuit sandwiches. The steak sandwich has 49 gm fat and country ham has 15 per serving. Items that contain no fat include Cajun Pintos and green beans. The Bojangles' website does not discuss trans fat. Other sites, such as My Fitness Pal and Buddy Slim indicate at least two dishes are free of trans fat. My Fitness Pal states Country Ham Egg & Cheese Biscuit has no trans fat and Buddy Slim lists Bojangles Chicken Supremes with no trans fat.
Sodium
Sodium in Bojangles' offerings ranges from 328 mg to 1250 mg. All of the products have relatively high sodium counts. Main dishes, such as Cajun Spiced Chicken, have 465 to 630 mg of sodium per serving. The overall sodium of the foods from Bojangles' might make this restaurant a poor choice for those who must manage sodium intake for hypertension or excessive water retention.
Potential Allergens
Bojangles' does not use peanut oil to fry their foods. One possible concern for those with controlled diets is gluten. As of 2010, the menu contains 29 products. Of these items, only five do not contain wheat gluten. Those who must avoid gluten can eat Botato Rounds, Cajun Pintos, Marinated Cole Slaw, Potatoes without Gravy and Seasoned Fries.
Best Dieting Choices
The best main dish choice for nutritional value is the Grilled Filet sandwich. The Grilled Filet offers low calories, just 235 per serving, plus 25 g of carbohydrates, 23 g of protein, 5 gm of total fat, 51 mg of cholesterol and 540 mg of sodium. It contains both wheat gluten and soy. If you add green beans and Cajun Pintos, your entire meal has 370 calories without a drink.
References
Writer Bio
Writing since 1999, Darla Ferrara is an award-winning author who specializes in health, diet, fitness and computer technology. She has been published in "Mezzo Magazine" and Diet Spotlight, as well as various online magazines. Ferrara studied biology and emergency medical technology at the University of Nebraska and Southeast Community College.
Photo Credits
Eddie Hernandez/iStock/Getty Images