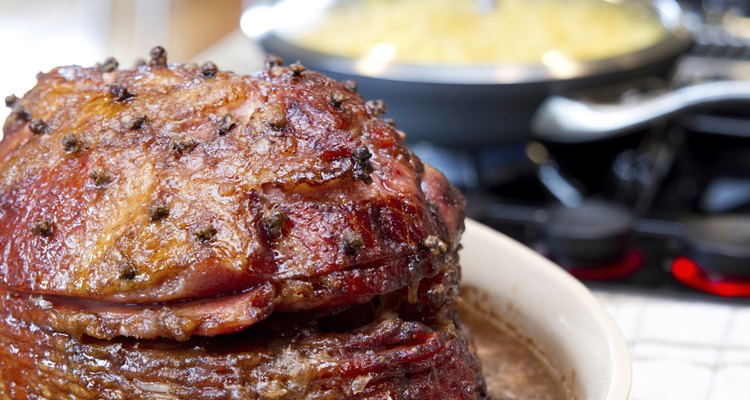 thyegn/iStock/Getty Images
Smithfield is a global pork producer that boasts over 50 brands of pork products and is the world's largest producer and processor of pork, according to the company's website. One of the products Smithfield offers is a spiral ham, a pre-cooked and pre-sliced ham. The ham receives one continuous spiral cut that goes all the way around the ham from one end to the other to help make serving easier.
Preheat your oven to 250 degrees Fahrenheit.
Remove all packaging from the ham and place it in a roasting pan or baking dish on its side.
Place a tight-fitting lid on top of the pan or dish, or cover with foil. Place the ham in the oven and heat for roughly 12 to 15 minutes per pound. A half spiral ham should take about two hours and a whole ham about three hours.
Remove the ham from the oven at the end of the cooking time, slice it up and serve.
References
Tips
Remove the ham from the oven about 30 minutes before the end of the cooking time if you want to add a glaze. Brush the glaze generously over the top and continue to heat uncovered for the remainder of the baking time.
Writer Bio
Joshua McCarron has been writing both online and offline since 1995. He has been employed as a copywriter since 2005 and in that position has written numerous blogs, online articles, websites, sales letters and news releases. McCarron graduated from York University in Toronto with a bachelor's degree in English.
Photo Credits
thyegn/iStock/Getty Images