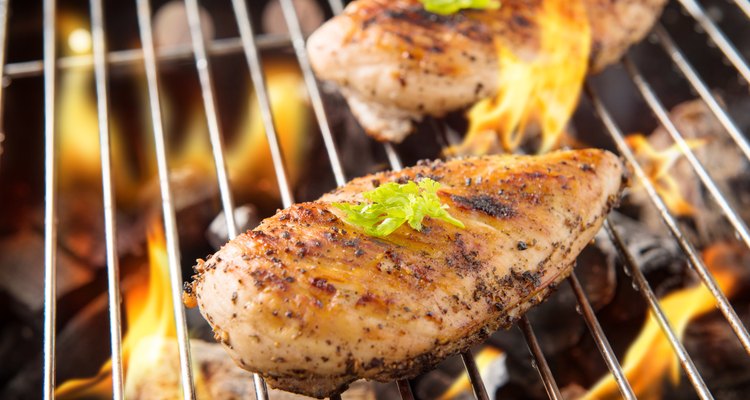 villagemoon/iStock/Getty Images
The Weight Watchers Core Plan instructs participants to choose snacks, meals and beverages from an approved list of generic foods and branded items. Don't worry about counting points; just stick to the list and stop eating when you have satisfied your hunger. The program promotes weight loss by eating high volumes of low-calorie foods and promises the same weight loss (1 to 2 lb. per week) as when counting points.
Beans and Legumes
Participants are allowed to eat any type or brand of beans and legumes, with the exception of vegetarian baked beans. Bird's Eye selections include the baby beans and carrot blend, baby corn and bean blend, butter beans, green beans, French-style green beans, Italian beans (deluxe), Lima beans (baby deluxe), pole green beans and tender young green beans. Bush's products include black beans, baby butter beans, cannellini beans, chili beans, field peas with snaps, garbanzo beans, great northern beans, dark red and light red kidney beans, mixed beans, navy beans and pinto beans. The list includes Del Monte green beans and seasoned green beans. Eden products include aduki beans, black soybeans, white kidney beans, chickpeas and green lentils with onion and bay leaf. Eat Fantastic's instant black beans or Old El Paso's mexe beans or their fat-free refried beans (vegetarian, original or spicy).
Fruits and Vegetables
Eat any fruits and vegetables (canned, frozen or fresh) as long as there is no added sugar or syrup. The list contains pineapples, oranges, bananas, apples, pears, strawberries, nectarines, blueberries, cranberries, plums and raisins. Eat collard greens, spinach, onions, mushrooms, celery, cabbage, lettuce, green peppers, carrots and broccoli.
Whole Grains
Eat any brand of whole-wheat pasta, brown rice, potatoes, peas and corn. Other whole grains include couscous, barley, buckwheat, quinoa, whole-wheat macaroni, sweet potatoes, potato skins, wild rice, polenta and rolled oats.
Protein Sources
The list includes anchovies, bass, catfish, flounder, eel, caviar, mackerel, halibut, salmon, sardines, snapper, calamari, crabs, oysters and crayfish. Eat fat-free cottage cheese, reduced-calorie dairy drink mix, a whole egg, fat-free milk, nonfat dry milk and fat-free yogurt. Additional protein sources include lean lamb, lean pork, lean veal, organ meats, chicken and turkey with no skin, Canadian bacon, flank steak and beef with no more than 7 percent fat.
Snacks and Soups
Choose among unsweetened applesauce, sugar-free and fat-free gelatin, white air-popped popcorn and fat-free sugar-free pudding. Soups on the list include core foods and are broth- or tomato-based. Examples include Amy's black bean vegetable soup, lentil soup and vegetable barley soup. Eat Campbell's French onion soup, beef soup with vegetable barely soup, green pea soup and tomato soup.
Condiments, Dressings and Oils
The list includes fat-free salad dressings, fat-free mayonnaise, fat-free margarine, fat-free baking spray, herbs, extracts, pico de gallo, fat-free salsa, fat-free sour cream, low-sodium soy sauce and teriyaki sauce.
Beverages
Drink unsweetened coffee, tea or seltzer. Drink any diet soda, club soda, latte with fat-free milk, cappuccino with fat-free milk, Crystal Light, Propel, Dasani Nutriwater, Edensoy soy milk, sugar-free Kool-Aid and Countrytime sugar-free pink lemonade.
References
Resources
Writer Bio
Judy Bruen is a private certified personal trainer and wellness coach. She holds dual master's degrees from Boston College in clinical social work and pastoral ministry. She currently works with individuals on fitness, health and lifestyle goals.
Photo Credits
villagemoon/iStock/Getty Images