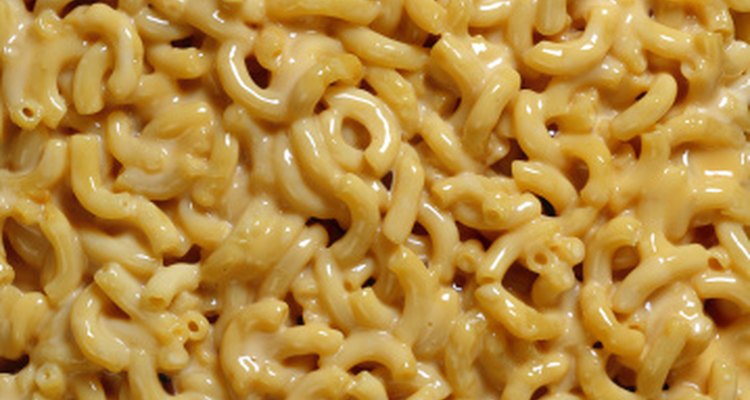 Brand X Pictures/Brand X Pictures/Getty Images
Kraft Foods Inc. is the largest food and beverage company with headquarters in the United States, second in size only (worldwide) to Nestlé SA. Kraft markets many food brands in more than 155 countries. The company's core businesses are in cheese and dairy, snack foods and confectionary, beverage and convenience foods
Cheese and Dairy Products
One of Kraft's major dairy brands is the Breakstone's line. Breakstone's main products are cottage cheese and sour cream. Kraft produces dozens of varieties of natural and Parmesan cheeses, as well as American cheese slices under the "Kraft" name. They manufacture Light 'n' Lively cottage cheese and yogurt, as well as the Knudsen brand cottage cheese and yogurt. The Philadelphia cream cheese line rounds out Kraft Foods' main cheese and dairy products.
Snack Foods
Kraft foods offers dozens of snack food brands, especially crackers, cookies, and other savory and sweet items, including the popular 100-calorie snack packs; Athenos brand feta cheese, hummus and pita chips; Arrowroot/Nabisco World snacks, including Ritz, Triscuit, and Wheat Thins crackers; Balance bars (sports nutrition bars); Barnum animal crackers; Cheez Whiz and Velveeta processed cheese-like products; Corn Nuts; Garden Harvest toasted chips; Honey Maid graham crackers; Kraft Cheese Nips and Handi-Snacks; Planters nuts; Red Oval and Premium crackers; Teddy Grahams; and Wheatsworth and Zweiback crackers.
Sweets and Confectionary
Kraft's major sweet/confectionary food brands include Baker's chocolate; Cameo cookies; Kraft classic caramels; Chips Ahoy cookies; Nabisco ginger snaps; Jell-O and Knox gelatin; Jet-Puffed Marshmallows; Mallomars; Newtons; Nilla Wafers; Nutter Butter and Oreo cookies; Snackwell's; Cool-Whip, and Peek Freans imported cookies. Kraft condiment brands and foods include A1 Sauce; Bulls-Eye BBQ sauce; Claussen pickles; Good Seasons; Grey Poupon (mustard); Kraft Mayo with olive oil; Kraft salad dressings; Miracle Whip; and Sure-Jell fruit preserves.
Convenience, Packaged Foods and Beverages
Kraft brands in this category include the Boca soy products; California Pizza Kitchen and DiGiorno frozen pizzas; Deli Creations and Lunchables; Easy Mac, Easy Cheese and Kraft Macaroni and Cheese; Oscar Meyer deli meats and hot dogs; Polly-O Italian foods; South Beach Living food products; Stove Top Stuffing; and Taco Bell Home Originals. Beverage lines that feature the Kraft name include Country Time lemonade, Crystal Light, Capri Sun, General Foods International Coffees, Maxwell House, Yuban coffees, Gevalia premium coffees, Kool-Aid and Tang.
References
Writer Bio
Michele Turcotte is a registered, licensed dietitian, and a certified personal trainer with the National Academy of Sports Medicine. She has more than 12 years of experience in clinical and corporate settings, and has extensive experience in one-on-one diet counseling and meal planning. She has written freelance food and nutrition articles for Trouve Publishing Inc. since 2004.
Photo Credits
Brand X Pictures/Brand X Pictures/Getty Images