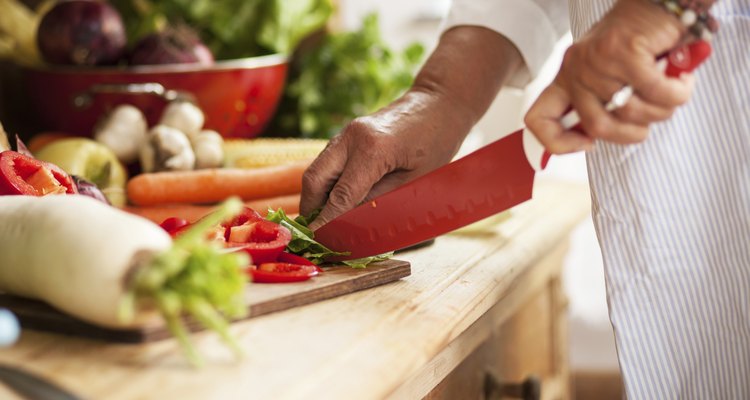 SolisImages/iStock/Getty Images
Duchess Restaurants have been serving breakfast, lunch and dinner to Connecticut diners since 1956. The restaurants offer a combination of speedy and fresh. They are fast-serve and have drive-throughs, but the staff makes your food fresh when you order it. Cooks practice quick, efficient cooking techniques in order to get you your meal quickly without sacrificing quality.
Salads
Duchess offers an Asian chicken salad made with romaine lettuce, mandarin oranges, sliced almonds and fried Asian noodles topped with sesame dressing; a chicken Cobb salad with tomatoes, cucumbers, bacon bits, chopped boiled egg and bleu cheese dressing; a chicken garden salad with tomatoes, cucumber, green pepper, onion, carrots and boiled egg; and a chicken Caesar salad. All of the salads are made with grilled chicken. If you are watching your weight, be careful: items such as bacon bits, egg and Asian noodles drive up the fat and calories in a salad, as can some dressings. Choose oil and vinegar or balsamic vinaigrette dressing and leave off the high-calorie add-ons for a healthy salad choice.
Classics
The menu includes fast-food classics such as chicken nuggets, onion rings, hot dogs, cheeseburgers and fries. Duchess prepares this classic fare according to its fresh-from-scratch philosophy. It gets daily shipments of fresh meat, poultry and produce, and the staff hand-cuts and breads the chicken nuggets and onion rings every day. You can also get tuna, chicken or egg salad. The breakfast menu features blueberry pancakes and Texas French toast, as well as breakfast sandwiches.
Breakfast
The breakfast menu features breakfast sandwich combos made with egg, cheese and a choice of ham, sausage or bacon and served with coffee and hash browns. You can opt for a breakfast wrap instead, made with two eggs and the same meat choices. Breakfast platters include cheese, veggie or western omelets, Texas French toast, pancakes or blueberry pancakes, and come with a choice of bacon, ham or sausage. If you're looking for something simpler, Duchess also has bagels with cream cheese, toast, muffins, and hard rolls.
Sandwiches and Wraps
Duchess has a sandwich for every taste. Choices include Philly cheese steak, pastrami, chicken, veal or eggplant parmigiana, patty melt, veggie burger, tuna melt or grilled ham and cheese. The big deli sandwiches include grilled chicken Caesar, roasted turkey, bacon and cheddar, BLT, baked ham and Swiss and tuna or chicken salad. Wraps are made with a white flour or wheat tortilla, and come in tuna or chicken salad, turkey, chicken Caesar or Philly cheese steak varieties.
Healthy Options
Like any fast-food restaurant, Duchess's menu is filled with decadent options. One difference between Duchess and most competitors is that it prepares food to order instead of making food assembly-line style and keeping it in warming bins. This allows Duchess customers to make special orders and even invent their own sandwiches. You could order a protein-packed egg white omelet with rye toast for breakfast, a grilled chicken salad with tomatoes, cucumbers, carrots and balsamic vinaigrette for lunch, or a grilled chicken sandwich with tomato on wheatberry bread for dinner.
Kids' Items
Kids' meals at Duchess come with french fries, a small drink and a toy. Children have a choice of hamburger, cheeseburger, hand-breaded chicken nuggets, hot dog or grilled cheese. You can replace the soft drink with orange juice, milk or chocolate milk. The menu is fairly limited, so children looking for more variety or healthier choices might want to share Mom's or Dad's meal.
Resources
Writer Bio
Melissa Sandoval began writing professionally in 1996, dabbling in fiction and writing for new media and magazines. She has published work in "mental_floss magazine" and on websites such as TLC Family and TLC Style. Sandoval has work published in English and Spanish, including online topics guides en Español. Sandoval has a Bachelor of Arts in psychology from Wittenberg University.
Photo Credits
SolisImages/iStock/Getty Images