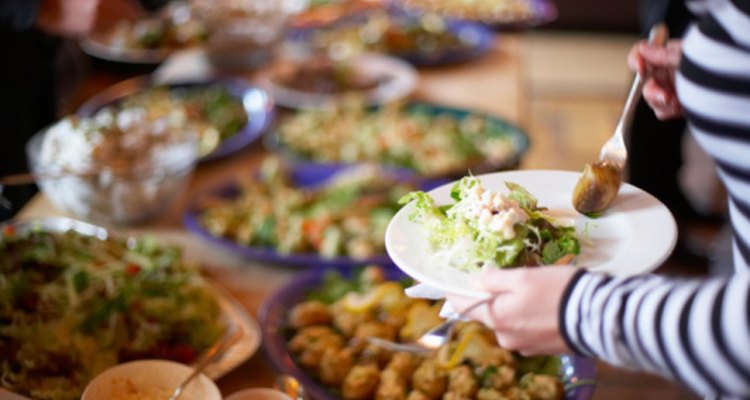 Jupiterimages/Photos.com/Getty Images
Cold buffets are a smart idea for a wedding because you don't have to worry about the additional stress of keeping the food heated during the reception. Cold foods can range from finger foods to sandwiches, depending on how much you want to feed your guests. Either way, cold foods will make things a little less complicated.
Fruit and Veggies
Nothing could be more simple than a tray of fruits and vegetables. If you're in a time pinch, simply purchase some vegetable trays from your local store. These trays usually come ready made with dip for the vegetables and fruit, so all you'll have to buy are serving utensils and plates. Trays usually include quite a variety of fruit and vegetables to satisfy any guest.
Bread and Crackers
Bread and crackers are an easy option for cold buffets. Simply arrange crackers and bread on a fancy tray with different varieties of spreads and dips, such as hummus, cheese dips and vegetable dips. You can also include biscuits, fruit breads, nut breads or toasted bread crackers to add variety. Tuna or chicken spreads or soft butter add more variety for spreads that guests can sample.
Meats
Cold meats are an option for a tasty cold buffet at a wedding. Honey ham, turkey, chicken and even pork slices are a quick and easy option for guests. If you want something more for your guests, you can add barbecue sauces, mesquite sauces or teriyaki sauces for guests to dip the meat or to spread over the meat. For a more fancy look, roll up the meat slices and pinch closed with a toothpick.
Sandwiches
Large, party-sized sandwiches can be ordered from any major sandwich chain in your area. These platters are easy to clean up because they usually come on plastic trays that can be thrown away when the sandwich has been eaten. Sandwiches come in a variety of meats and are supplied with condiments so people can choose what they prefer to eat. Sandwich chains also usually offer a deal on large orders, so it might be more efficient to buy in bulk.
References
Writer Bio
Brittiany Cahoon began writing professionally in 2003. She has been published as a reporter and columnist in the "Mountaineer Progress," "The Rattler" and other regional newspapers. Cahoon holds a Bachelor of Arts in English from Brigham Young University.
Photo Credits
Jupiterimages/Photos.com/Getty Images