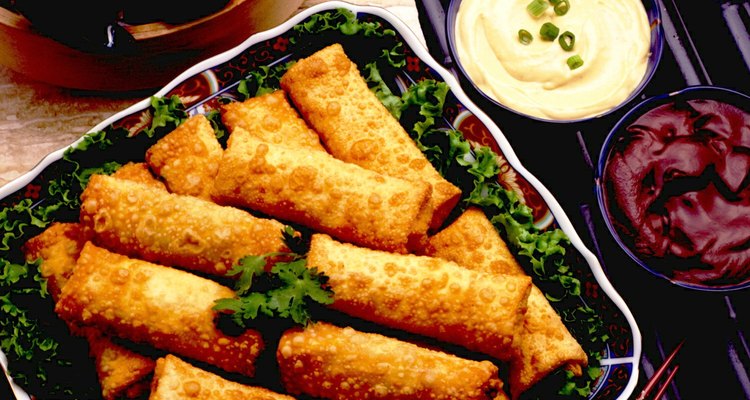 Jupiterimages/Photos.com/Getty Images
Whether your wedding is a small, intimate affair with a few friends and family members or a bash for a hundred people, you can serve a range of tasty hot and cold appetizers at the reception without paring back the dinner budget, dipping into the honeymoon fund or making them yourself.
Hot Starters
Read reviews of local Thai, Chinese and Vietnamese restaurants and find out which has the best spring rolls for delivery. Do the same for other cuisines famous for light, inexpensive fare such as dim sum from Chinese eateries and tapas from Spanish restaurants. These appetizers are economical, hold well at room temperature and can be reheated without loss of quality in conventional ovens at the reception venue.
Cool Appetizers
Classic Italian antipasto trays full of pickled and fresh vegetables, cheeses and smoked meats provide a selection of finger foods and brighten the table with vibrant colors and textures. Find a master fruit sculptor to design an edible centerpiece and keep costs down by using in-season fruits and offer to purchase them yourself from a warehouse store or local farmers' market.
Nuts and Chips
Buy a variety of lightly salted and spiced nuts in bulk and display them in colorful containers of different shapes. Instead of conventional potato or corn chips, serve flavored pita bread chips and toasted bagel rounds with a light hummus dip on the side. Baked chips in hues of blue and red flavored with exotic corns and chiles add interest to the appetizer selection.
Gourmet Bites
With the money you save on the hot and cold appetizers, you can intersperse the appetizer selection with a few higher-priced options. Purchase rounds of baked brie flavored with fruits and nuts at gourmet delis or specialty stores, gently reheat them and serve with a variety of flavored toast rounds and breadsticks. Set out big bowls of cooked and peeled jumbo shrimp with an assortment of dips and sauces such as remoulade; crème fraiche mixed with fresh dill; and chunky, fresh tomato cocktail sauce, all available at specialty delis and through restaurant and hotel catering departments.
Tips and Hints
Remember appetizers are meant to whet appetites for the meal to follow, so they should be light. Use a lot of fresh vegetable and fruit garnishes in creative designs to make simple dishes more visually appealing. Don't hesitate to mention to food purveyors that you'll be using the food for a wedding reception; many will give you a price break based on sentimentality or because wedding receptions are good places to showcase their food to attract new customers.
References
Writer Bio
Cassie Damewood has been a writer and editor since 1985. She writes about food and cooking for various websites, including My Great Recipes, and serves as the copy editor for "Food Loves Beer" magazine. Damewood completed a Bachelor of Arts in English with an emphasis in creative writing at Miami University.
Photo Credits
Jupiterimages/Photos.com/Getty Images